Mondays will be the day that we feature a cool, new product, just one of our favorites or talk about something totally new coming your way. What a great way to start your Monday! Ok, maybe I'm one of only a few that loves to look at new paper products and different uses for them on a daily basis. But still, it's a fresh start to your week!
We've spent hours and hours getting the Pear Tree Greetings site ready for launch, which includes lots of time spent on the site testing cards out, etc. There is one card that I continually test with…I guess that makes it my favorite design so far! Why is it my favorite? It's a 5×7 which is my new favorite greeting card size. (ok, so not like 5×7 is a newly invented size, but in respect to photo cards, it's fairly new and quickly taking over the 4×8 size…but we love those too of course) It's mostly brown, which is my favorite color. And I think what really draws me to it is the font used for the greeting "JOY". Very different and fun. I also like the way the designer right justified the verse and text. Something that I would never think of…but I am really liking it. So, I hope you enjoy this card as much as I do! But…if you don't, that's obviously okay, we have lots more to choose from! And…even better, all of our 5×7 cards are so affordable! For 75 cards it's only $54! Can't beat that. Check out our Christmas photo cards.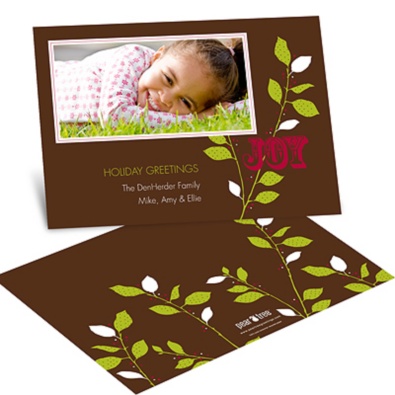 We are a small company who loves to create beautiful things out of paper. We are also moms, dads, sisters, and friends who, just like you, love to share.

Latest posts by Pear Tree (see all)