Going green. Pretty popular phrase these days. Should have probably been popular years and years ago…but, we can't go back, we can only move forward. Making sure we offered recycled photo cards and recycled Christmas cards was important to us. You'll find that we have these cards specifically called out in their own categories, but also know that nearly all of our Photo cards and Christmas cards are printed on paper that is made with at least 10% post-consumer fibers. We specifically called out the cards that appear in the Recycled sections because they are made with at least 30% post-consumer fibers (a lot of them are 100%!) and sometimes have an obvious eco-friendly design.
Here are a few of my favorites from the recycled photo cards section.
And some of my picks from the Recycled Christmas Card category: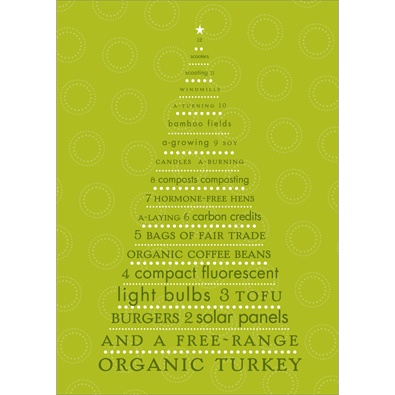 This card is one of my absolute favorite! Check out what is says:
12 scooters scooting, 11 WINDMILLS A-TURNING, 10 bamboo fields a-growing, 9 SOY CANDLES A-BURNING, 8 composts composting, 7 HORMONE-FREE HENS A-LAYING, 6 carbon credits, 5 BAGS OF FAIR TRADE ORGANIC COFFEE BEANS, 4 compact fluorescent light bulbs, 3 TOFU BURGERS, 2 solar panels AND A FREE-RANGE ORGANIC TURKEY
And a few more: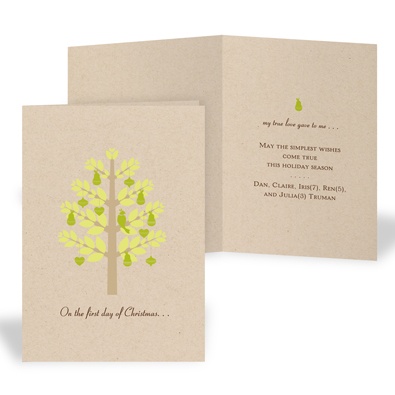 We have even more designs on the way so the ones above and on the site are just a sampling. For the specific recycled content information about each card, refer to each card's detailed information.
Have a great weekend!