We know many of you are thinking about graduation at this time of year, and we're here to help. Not just showing off our super cool
graduation invitations
, but also helping you plan and prepare for the best graduation party ever.
Where do you even start? We suggest coming up with graduation theme ideas first. Might be as simple as your school colors, or as extravagant as a Mexican Fiesta. I think my own graduation party theme was pork. I know, cool, right? Long story short, my parents are in the swine industry, which explains it, but I really wish I would have had a cool theme. We had my party the night of the ceremony, so maybe our theme was 'Hallelujah, we're done'. But enough about me.
Here's a question we received recently from a Pear Tree customer:
Our son is graduating from high school this year and we're planning his open house. We'd like to make it as fun as possible for him, but are struggling with finding a theme. Can you help us?
We sure can! Don't think too hard about finding the perfect graduation theme…just think about your son. What's his personality, what are his interests? If he's involved in sports, decorate with the school colors and equipment from the sports he loves. If he speaks a foreign language and loves to travel, consider serving food and decorating with elements of different cultures. Does he love to swim? Consider hosting a pool party or a party by a lake to enjoy the water. If he's a movie buff, how about a Hollywood-theme event? Music his passion? Decorate in black and white with musical motifs. Once you pick a theme…the ideas will start to flow!
Once you've thought about graduation party themes, it might be easier to select the perfect graduation invitations!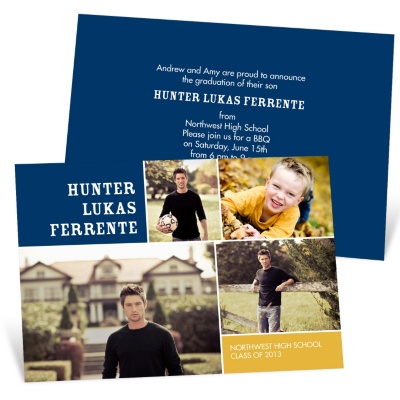 Going with school colors? Almost all of our graduation invitations can be customized to match your school colors, or favorite colors, with over 70 color options to choose from. But if your school colors are the definite theme, how about placing your school logo or mascot icon in one of the photo areas? The possibilities are endless.
Check out our collection of graduation invitations at Pear Tree Greetings for inspiring ideas. And you'll find more graduation party ideas on our blog.