Graduation is one of the most significant events in your life. So, of course, you'll want to share this special event with your family and friends. Take a moment to think about the options you have when it comes to sharing your good news with the most important people in your life. Yes, there are many ways to do it. But don't worry this graduation etiquette guide will break it down for you.
Graduation Announcements vs Graduation Invi

tation

s

What's the difference? And which one should you order?

A graduation announcement is basically just that. An announcement of your graduation, whether from high school, college, even kindergarten.
A graduation invitation is again…just that. An invitation to your graduation party or open house party that you typically send to all of your family and friends to come celebrate with you. Sometimes invitations are included as part of the announcement…sometimes they're separate. It all depends on your style.
That said, you can create either graduation invitations OR graduation announcements with ANY of the designs in the graduation collection at Pear Tree.
Take our graduation pocket invitations, for example. They feature a little more formal look that would work great as a traditional announcement, just with a stylish spin. But they also feature enough space for personalization to include your party details if you choose!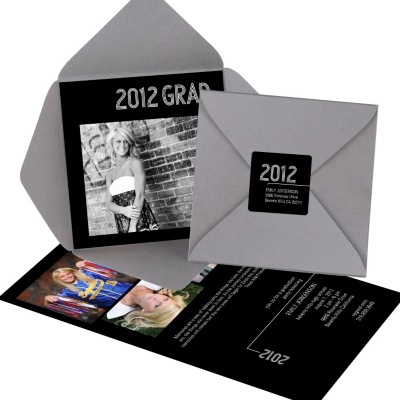 Our trifolds, collages, and two-sided graduation announcements offer room for personalization on the front and back (for the majority of them). Just wanting to create an announcement? Simply leave the text areas blank. Simple as that!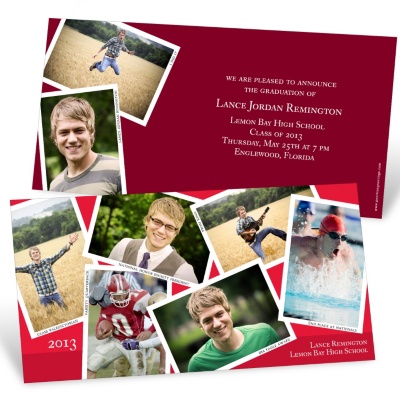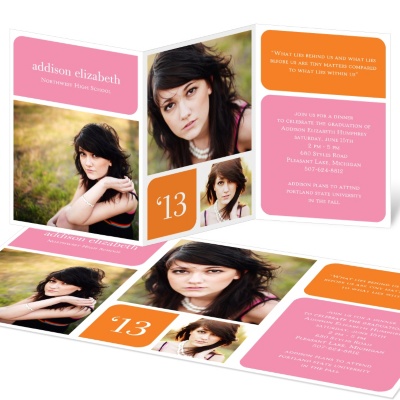 Make a list of people you would like to invite, so you can determine how many cards to order then add 24 extra invitations for people you may have overlooked or need to add at the last minute (as well as extras for use as keepsakes).
Save yourself time and possible hand-cramping and order coordinating graduation address labels or printed envelopes for your announcements (and graduation thank you cards).
Send graduation thank you cards. Your guests will appreciate your thanks for any gifts that you receive. Also consider sending extra cards to your teachers, coaches and mentors a personal, handwritten note in each of these cases is a classy move.
Remember to save at least one of each announcement and/or invitation for your scrapbook. Graduation portfolios are the perfect place to display these items.
Pear Tree Greetings also offers matching profile cards, everything you want people to know on one simple card!
Be sure to browse through all the graduation invitation ideas from Pear Tree Greetings today! Or keep reading our blog for more inspiration and tips on graduation etiquette.