We have two
party invitations
that would work perfect for your upcoming surprise party…whether it's a birthday or anniversary or anything. Technically, you could use basically ANY of our products and just customize the text, but these two are super cute!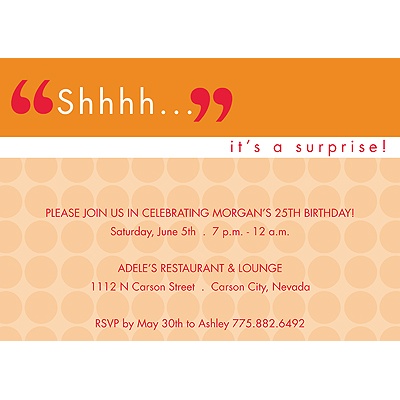 Comes in blue and green, too!

I met my husband about 8 months prior to him turning the big 3-0 and his mother approached me to help her throw a surprise party for him. Sure! (needed to get in with the potential in-laws…right?? :))
So, amazingly enough, we got the party invites out, made a scrapbook, planned everything and he NEVER had a clue. We lived in a fairly small town at the time, and you can imagine how well secrets are kept.
Anyway, I had one of his friends ask him to help bartend a private party at our local club and if you knew my husband, being able to socialize with everyone at a party is right up his alley…he had no idea and agreed right away. He rounded the corner into the club, everyone yelled 'Surprise!' and I'm not sure I've ever seen him more red. It was awesome and truly an event to remember.
I'd love to hear your surprise party story or plan for that matter!