Wow, it's July already! And nearly half way through already…geesh. Alright, so I've been a little MIA. LOTS of things happening here at Pear Tree Greetings, but more to come on that in the next few weeks. Did you have a good 4th of July? Ours was fairly uneventful…but that's okay. Lake, fireworks, zoo, relaxation…perfect if you ask me.
Here is my little man in his daycare parade last week…as you can see…he wasn't exactly LOVING it. But hey, he was looking into the sun.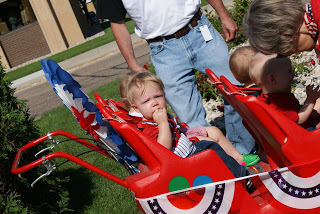 More to come today…lots of new wedding invitations, bridal shower invitations, party invitations and more went live today! (finally, I know!)

We are a small company who loves to create beautiful things out of paper. We are also moms, dads, sisters, and friends who, just like you, love to share.

Latest posts by Pear Tree (see all)