We know how sending photo cards can add up, especially if you want to send cards more than once a year! That's why we've added some really affordable Valentine's Day card ideas in our collection this year.
We have Valentine's Day postcards, which are not only less expensive but also won't cost you as much in postage to mail.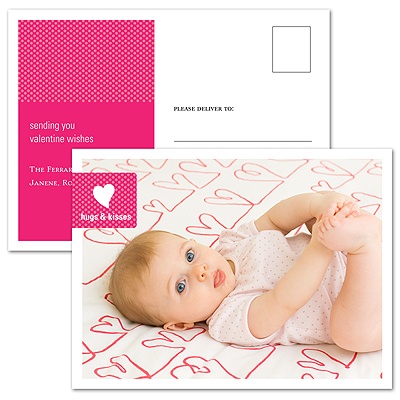 We have mini-cards, about 3×5 in size, that are mailable and inexpensive! They're easy to personalize, too.
Need affordable valentines for kids to hand out at school? Check out our new collection of kids classroom valentines, many of which can be personalized with a photo. They're too small to mail, but just right for the classroom. And for a few pennies more, some of our regular sized kids Valentine's Day cards feature the same designs, but are large enough to mail.
Best of all, our minimum card order is only 8, so you don't have to buy a large set. You can order as many as you need in multiples of 8.
Read more Valentine's Day card ideas on our blog, or start browsing through our collection of Valentine's Day photo cards today.