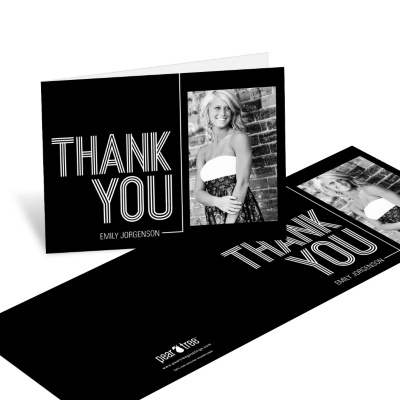 Don't forget to send Graduation Thank You cards!
We see a lot of mistakes and get a lot of questions about graduation announcement etiquette, such as what to include, wording, how many to order, etc. Here's a list of Do's-and-Don'ts that may help.
Do – Make an invite list and go over it with your graduate.
Don't – Order 100 graduation party invites for 100 people. Remember you only need one for each couple, family, etc.
Do – Match both the graduation announcements and invites to the style of your grad and the graduation party theme.
Don't – Limit yourself to looking at only a few formal options for invites. Graduation invitations are easy to personalize with photos and color choices.
Do – Send invites out at least 4 weeks before the party.
Don't – Forget graduation address labels, which will make addressing your envelopes oh, so easy.
Do – Request RSVPs 2 weeks before the party.
Don't – Forget to include a map or directions to the party location.
Don't – Skimp on the total order of graduation party invites. It's better to order extra.
Do – Specify if a meal or food will be served.
Do – Include a dress code if the graduation party theme requires one.
Don't – Forget the graduation thank you cards. In fact, order them when you order the graduation invitations to save time.
Do – Ignore graduation announcement etiquette if it suits your son or daughter's style. Have fun choosing graduation invitations, but make them your own!
Do – Look for more inspiration and graduation party ideas on our blog!