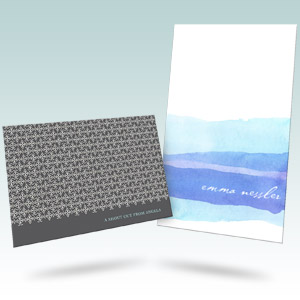 One of the things we love about our
personalize stationery
is that you can, well, personalize it. The simplest way is to simply add your name or initials, but you can also add something as creative as a favorite verse, lyric, original writing or photo. Once the note card is printed, however, what's inside is all up to you. There are a myriad of reasons to send a personal note, and lots of creative ways to make them even more personal. Not feeling very creative? Here are some of the more delightful note card ideas we've heard from our customers that we're happy to pass along to you. 
Include a gift card for your favorite coffee place with a note saying "Let's have coffee!"
Include a photo you've taken that is special to you…a place you visited, your family, the flowers you grew, or a picture of you and your friend from way back when.
Include something your child just drew that day – kid art, especially for her.
Send her some tea bags, because you know she became addicted to Earl Grey when she was in London.
Enclose an article that made you laugh because you used to pore over People Magazine together.
Send a poem that reminds you of a time you spent together.
A quote from the past is always good for a laugh…the best jokes are the old ones.
Send the lyrics to a song that reminds you of a wonderful time.
Enclose a recipe you've been meaning to share with her–maybe she'll send her secret recipe back.
A fortune from a fortune cookie that made you think, "This is you!"
Instead of moving announcements, stick matching address labels on the inside of your personal note cards.
We hope you enjoyed our note card ideas. Now go and send someone a smile. And if you don't have your own note cards, it's high time you ordered some from Pear Tree!