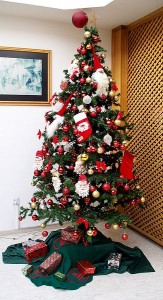 Over the weekend I spent some time getting the kids' winter gear out and came across what I affectionately refer to as "The Stash." Perhaps you also have a Stash, a hidden collection of things you buy ahead of time to make sure you are prepared for anything and everything. The Stash holds last-minute hostess gifts, clothes you bought on sale for the kids at the end of last season in a larger size, photo frames that you are sure you will one day use, extra wrapping paper, ribbon and Christmas gift tags, toys for the 47 birthday parties your kids will attend next year, extra crafts and puzzles for a rainy day, etc.
While surveying The Stash this weekend, I got a glimpse of my holiday ornament boxes sitting nearby. I couldn't resist. I took a peak to see what's in store for the traditional weekend-after-Thanksgiving tree trimming and got excited for the holidays. Yes, it means a lot of work and planning, but I truly love that time of year and all the joy it brings – family, friends, food and being together. I can't wait. It's time to start thinking about my Christmas photo cards—or maybe I'll send Thanksgiving cards this year. I'm grateful to The Stash for bringing me to this happy place.

We are a small company who loves to create beautiful things out of paper. We are also moms, dads, sisters, and friends who, just like you, love to share.

Latest posts by Pear Tree (see all)