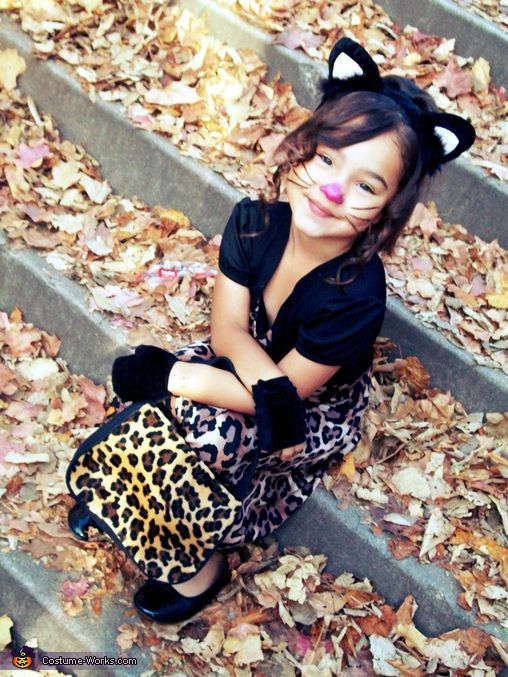 Over the years, we have learned a few things about taking photos for our annual
Halloween photo cards
. First, the Halloween photography session at our home is short, since the fun factor never lasts as long as we hope. We think it's best to take this photo (1) after the kids have napped/rested, (2) earlier in the day rather than later and (3) in the first few minutes after they get into their costumes. Of course it helps tremendously if they love their costumes, and that nothing is poking or scratching or binding. We also try not to put them in their costumes too often before this day, so as not to wear out the excitement. It's probably a 2-person (minimum) job – one person to entertain and the other to point and click.
The kids know that if all goes well, after the photo we will stage a dry run for Halloween, complete with them knocking on our door for practice. They are rewarded with a sample of what's in store on Halloween night. Sometimes that is the best opportunity for a great photo.
Finally, and perhaps the best of our Halloween photo ideas, we recommend that parents are not cranky. A glass of wine or a piece of good quality chocolate works wonders. I speak from experience.
Check our our collection of Halloween photo cards for lots of great Halloween photo ideas. Or keep reading our blog for more Halloween ideas.
Image by: Cat
Christy's day job is the Marketing and Merchandising Manager at Pear Tree, but in her free time she loves putting together events like birthday parties for her two boys, helping friends with their weddings, parties, showers, etc., dabbling in photography, and spending time with her family. She is quick to tell you that her preoccupation with Pinterest is not an addiction. It's market research. To get to know Christy a little better, visit her blog,
A Peek Into 31 Otter Court
.