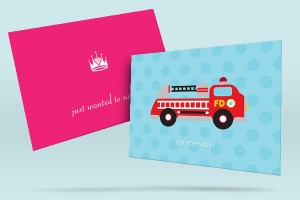 Kids love getting mail. Any kind of mail. When I was little my mom used to let me open all the junk mail. I didn't know it was junk mail, of course. To me it was just mail and it was fun to open and look at all the pictures inside. But when I received something addressed to me personally, that was so exciting. What could it be? Who is it from? Open it!
There is something about the anticipation of opening an envelope addressed to you by hand that cannot be ignored, even as an adult. We have so many other communication options these days—social networks, email, text—that a card in the mail is an unexpected treat. If you want to make a big impression on the kids in your life, try sending them something in the mail. And while we might think about doing this more often to friends and relatives who are out of town, how much bigger of a surprise would it be to send something to someone who lives a few blocks away?
It is especially fun for kids to get mail when they are just learning to read. (Remember to print, so they can read it!) As they get older, being able to read your handwriting makes them feel more grown up. If you are lucky, you will get a handwritten note back from them.
One of our staff members has a sister who creates DIY cards featuring photos of her kids making silly faces. She uses these to send notes to everyone in her life, whether kids or adults. Who doesn't smile at a silly face?