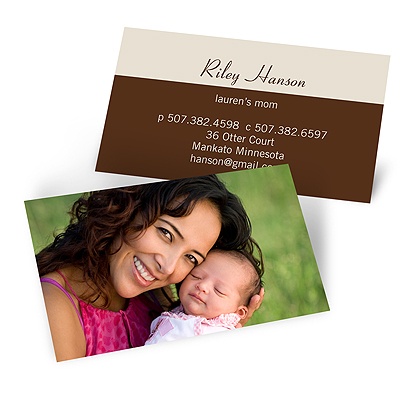 A customer of ours moved to a new neighborhood in the fall. She had her
mommy cards
, complete with contact info and her child's photo already made (her first wise move), but proved she was a genius when she came up with the brilliant idea of taking them along Trick-or-Treating with her child on Halloween. After all, what other time of year is it acceptable to ring every doorbell in the neighborhood and introduce yourself? When she met someone she wanted to connect with, such as a family with kids her own child's age or, better yet, a potential babysitter, rather than engage in a long conversation (not possible with a giant ladybug tugging at your sleeve to move on) she dropped off a mommy calling card. It was a great way to say, "I'd like to get to know you." Kudos to you, Mommy. Our customers are the smartest!
In addition to mommy cards, be sure to check out our Halloween photo cards and Halloween invitations. And for more Halloween ideas, keep reading our blog.

We are a small company who loves to create beautiful things out of paper. We are also moms, dads, sisters, and friends who, just like you, love to share.

Latest posts by Pear Tree (see all)