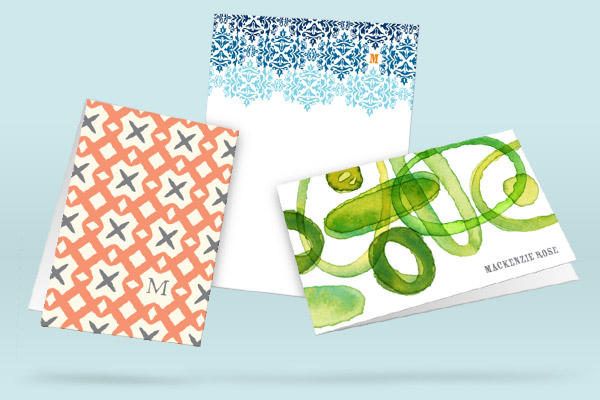 A hostess gift is a little something you bring along to a party to give to the hostess when you arrive. It is not required, but is a lovely gesture that says, "Thanks for having this gathering and inviting me—I know how much work it is!" So what do you bring?
Some of our favorite go-to hostess gift ideas are a bottle of wine, her favorite coffee, a bouquet of her favorite flowers, cooking herbs, flavored oils or vinegars for the cook, seasonal dish towels or fingertip towels, the sequel to a book she loved, pretty soaps, candles, and chocolates. We also love personalized hostess gift ideas such as personalized note cards or notepads for the hostess. Okay, maybe we're a little biased, but wait until you hear this idea.
One of our team members ordered several styles of note cards in fun colors she loved. Then she mixed and matched the colors and styles to make several little packets of note cards, tying them in bundles with a ribbon. Not only have they been a big hit, but now she always has a gift ready whenever she needs one. Because that's the other thing about a hostess gift—you never have one when you need one.
Shop our stationery collection for hostess gift ideas like note cards, notepads and more. For more gift ideas, keep reading our blog.