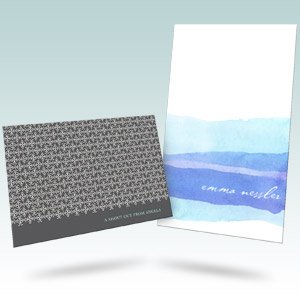 It's no secret that some people are better than others at sending quick handwritten notes, especially thank you notes. What do they have that we don't? Better manners? Advanced social skills? A degree in creative writing? The truth is, the biggest advantage the note writer has over the non-note writer is…wait for it…they actually have note cards. Yes, while you have nothing but a few half-used spiral notebooks and a pile of crumpled wide-rule filler paper in the house, they have a box of lovely, personalized, all-occasion note cards standing ready for whenever the mood strikes.
That's all there is to it. Owning personalized stationery can turn you into an accomplished note writer faster than you can say Miss Manners. We guarantee that if you have it you will use it. In fact, you will use it far more often than you ever thought you would.
Once you have your personalized note cards, here are a few more ideas on how to make the most of them:
One of our staff members suggests putting stamps on the envelopes as soon as you get them, so your message (and your good intentions) won't be derailed for lack of a stamp.
Keep your new personalized note cards in places where you are prompted to write. We suggest you keep them not only in your desk at home, but in the nightstand by your bed, in the kitchen, in the suitcase you take on vacation, in your briefcase, or tucked in your book as a bookmark. That way you will have what you need, when you need it.
Don't wait. Write as soon as the mood strikes, or the need arises. The best thank you note ideas (and the easiest ones to write) come from the heart, spontaneously. It's hard to sound spontaneous 2 weeks later. And the longer you wait, the harder it gets to pick up the pen.
Don't try to think of something clever. That is enough to paralyze anyone. Just write what you feel, the way you would say it in person. It doesn't have to be long—a few sentences or a simple "Thanks for your friendship" is often all you need. If you're really stuck, you can always borrow words from a famous author or the lyrics to a song.
For more thank you note ideas, visit our stationery collection where you'll find lots of designs and fresh ways to add your own style.