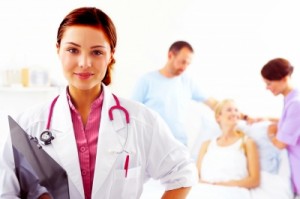 Have you ever sent a simple
personalized note card
to a friend to let them know you are thinking of them? October is Breast Cancer Awareness Month and we want to encourage you to write a note with one simple message: talk to your doctor about mammograms and self-breast exams. It may sound intrusive but because we are inundated with messages about breast cancer and constant requests for participation in fundraising events, a personal note from a friend may do more to raise awareness and get her attention than anything else would.
We suggest a simple note to say you care:
"Hi Michelle, I just had my very first mammogram, and it made me think about you and other women I really care about. Just wanted to say, don't forget to schedule yours because I love you! Let's get together soon. Love, Jane."
We're certainly not doctors and can't give medical advice, but you should know that recently there have been conflicting guidelines as to when and how often you should get a mammogram. Your best bet: talk to your doctor. More info

We are a small company who loves to create beautiful things out of paper. We are also moms, dads, sisters, and friends who, just like you, love to share.

Latest posts by Pear Tree (see all)