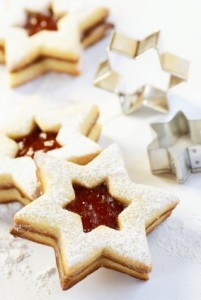 It's that time of year again. Time to pull out the tried-and-true family recipes—the ones you wouldn't dare alter, the ones that make your family celebrations yours and yours alone. These recipes, carefully copied from Grandma's or Mom's or Aunt Judy's originals, are dog-eared and splattered and dusted with a fine layer of flour, but the results are no less delicious.
This holiday season, that precious index card or scrap of paper could win you free Christmas cards (up to $100 worth) plus free printed recipe cards to share with your friends! All you have to do is share your family recipe, your memories of what makes it special, and a photo of the finished dish. Here's how to enter:
Send the following by November 15th, 2010, to contests@peartreegreetings.com.
Your family recipe
250 words or less about your memories surrounding your dish
A photo (less than 2MB) of your dish
Limit one recipe per entry, per person; but if you write a blog and post your entry with a link to blog.peartreegreetings.com (and confirm with us your blog post by sending the link to contests@peartreegreetings.com), you will receive 3 entries for your 1 recipe. We will choose 4 random entries, and 4 additional entries will be chosen by our Pear Tree team. The eight finalists will be posted on our Pear Tree Blog on 11/16/2010, to be voted upon by our readers. One vote per email address for the voting period. Voting ends 11/21/2010. The entry with the most votes will be chosen as the winner and receive $100 towards Christmas Cards, plus 50 free recipe cards. (See rules)

We are a small company who loves to create beautiful things out of paper. We are also moms, dads, sisters, and friends who, just like you, love to share.

Latest posts by Pear Tree (see all)