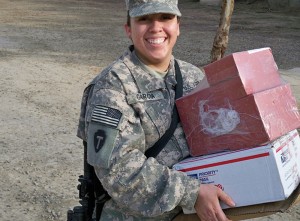 We're always looking for Thanksgiving ideas that add meaning to the celebration, and this idea is near the top of the list! If you know someone serving in the military, or someone who has family serving in the military, Thanksgiving can be a difficult time of year. It is an all-American holiday, a day that brings families together to celebrate the freedom and abundance we enjoy in this country—in stark contrast to the conditions our military members endure in war-torn countries overseas. What better way to give meaning to your Thanksgiving celebration than to reach out and thank these men and women for their sacrifice?
We encourage you to join us in getting out your personalized note cards and writing a few words of thanks to let a military service member know we appreciate the work they are doing and the sacrifice they are making. And when we sit down to our Thanksgiving meal with our loved ones, we will spend a moment thanking those who are serving their country far from home. For more Thanksgiving ideas, keep reading our blog.

We are a small company who loves to create beautiful things out of paper. We are also moms, dads, sisters, and friends who, just like you, love to share.

Latest posts by Pear Tree (see all)