For me, Chr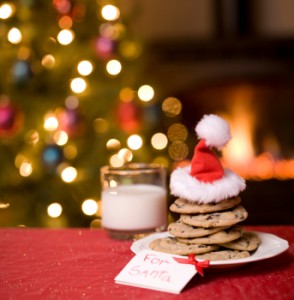 istmas Eve is the most beautiful night of the year. The madness of shopping is over, travelers have arrived safely, and we finally get to experience a moment of peace. Anticipation fills the air, kids are on their best behavior, and music sets the mood. Then there are the little rituals we do every year that make Christmas Eve special.
When we were kids, we would put out milk and cookies for Santa and lie in our beds, wide awake for what seemed like hours listening for reindeer on the roof. As we got older, our parents took us to Christmas Eve midnight services where we would lustily sing Christmas carols and continue singing them all the way home through the chilly winter's night. As parents, we endured the phase of having to get the 'easy-to-assemble' toy built before we could go to bed. (Not recommended for those who want to maintain that peace vibe.) Our recent tradition is to prepare the milk and cookies with our kids, cajole them into bed and then open a nice bottle of wine to share. We play holiday music and sing along while we wrap presents. It all seems a bit Norman Rockwell, but for that one night in particular, life does seem perfect.
Dani manages social media at Pear Tree Greetings, which means she actively shares, tweets, pins and posts from her laptop or phone all day long, always stressing the importance of a handwritten note.