We asked our team members to tell us which of our Valentine's Day card ideas for kids they liked best, and here are the top three picks:
1. Ninja Action in Blue Kids Valentine's Day Cards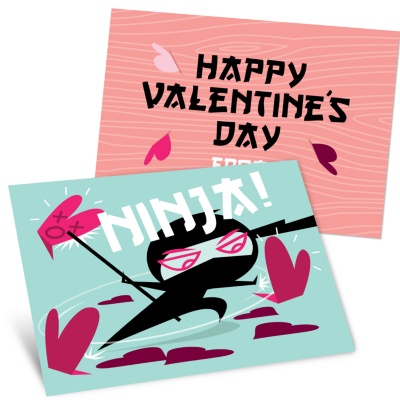 Tyler, Project Manager, says: I like the Ninja Action in Blue Kids Valentine's Day Cards because ninjas are awesome. What kid wouldn't want ninja valentine cards?! Seriously.
Liwanag, President of Pear Tree, says: Ninja cards for sure! They are funny and the kind of card a boy can get excited about sending.
2. Dinosaur Fever Kids Valentine's Day Cards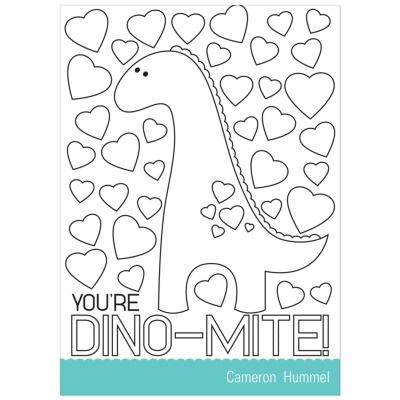 Josh, Web Development Manager, says: We went with a set of each of the coloring cards, which included the Dinosaur Fever Kids Valentine's Day Cards, All Eyes on Owl Kids Valentine's Day cards, and Robot Love Kids Valentine's Day cards. These will keep our daughter busy coloring for all her friends!
Dani, Social Media Coordinator, says: the Dinosaur Fever Kids Valentine's Day Cards is my favorite because it is a great activity for a family to do together. Kids can put their classmates names on the back and color the front to make it personalized. The dino is so cute, you can give it to either a girl or boy at school and it wouldn't be weird. (When I was in school boys didn't like getting princesses.) And the hearts are perfect for Valentine's Day. I think it'd also be fun for kids to hand them out not colored, and then at recess color together with his or her friends. Lots of opportunities for fun with this card!
3. Valentine Stickers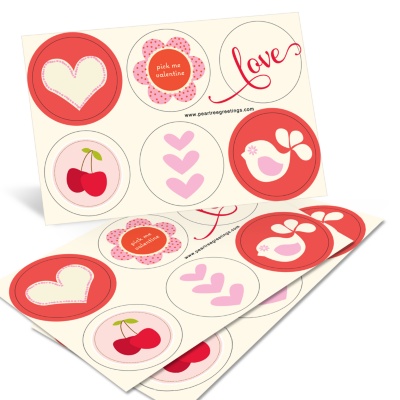 Thao, Marketing Manager, says: I love our Valentine stickers because they are such a fun way to get kids involved. I know from being an aunty that my nephews and nieces can sit for hours putting stickers on anything and everything. We have had play dates where we have so much fun making a piece of cardstock and stickers into something we consider art! I know when we finish using the stickers, the card will be truly unique. I also like them because they make great gifts for friends at school. I think, why not skip the sugar this year, which we get so much of anyway, and give a treat that they'll really get a kick out of!
Angela, Creative Director, says: I love our entire Valentine's Day cards collection but our new Valentine stickers are my personal favorite. My kids love stickers! These are a perfect treat for classmates, along with one of the cards, and a great way to seal the envelopes too.
Look for more suggestions on Valentine's Day card ideas for kids on our blog. You can also personalize these items and any of our kids Valentine's Day cards in minutes on our website. Be sure to check out our new collection of affordable classroom valentines while you're there!

As the marketing copywriter for Pear Tree, Cathy knows how intimidating writing a Christmas card or thank you note can be. When she is not writing, she is busy gardening, doing DIY projects around the house or trying to keep her three teenage boys in line.