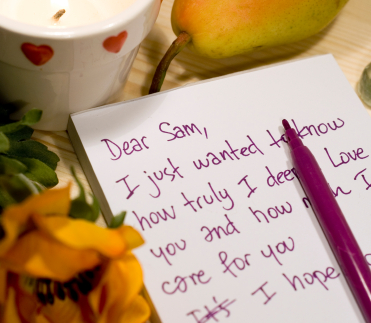 Have you told someone you love them lately? Valentine's Day is a day to share the love! No doubt you already have a
Valentine's Day card
picked out for your boyfriend or husband, but why stop there? Today is the perfect day to surprise some of the other people in your life, whether it's your sister, your best friend, or your Uncle Pete, with a "love note" that says just how much they mean to you.
It doesn't have to be a big, glittery Valentine's Day card. Our Valentine's Day ideas go mare along the lines of a simple handwritten message saying: "Hey, you're one of the wonderful people in my life, and I don't say it often enough. I love you!" Now that's a Valentine anyone would love to receive. Of course, you could send a note like this any day of the year, but would you? Valentine's Day only comes once a year, so if you love someone, don't pass up the chance to let them hear it.
Look for more Valentine's Day ideas and ways to make the day special on our blog. And be sure to start shopping for your Valentine's Day photo cards or classroom valentines, if you don't already have them picked out!