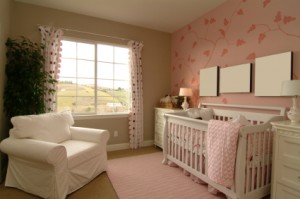 When you're expecting a baby, few things are more fun than decorating your new baby's nursery. You get to immerse yourself in baby colors, clothes, bedding and furniture to your heart's content. And with nine months of waiting, it's nice to have a focus for your energy–especially when that nesting instinct kicks in.
To get a feel for what you might like, visit a few stores for baby room ideas. Seeing what's out there will help you decide on a theme or color for the room, or perhaps a quilt or rug you love will give you a starting point. Of course, if you're creative with a paintbrush or sewing machine, you can create any theme you like.
If you know your baby's gender you can pick a theme and go all in. For boys, the perennial favorites are trucks, trains, planes, space, sports, zoo animals, jungle and safari animals. For girls, flowers, hearts, fairies, angels, bunnies, kittens, ballerinas, ribbons & bows, butterflies. Don't worry, you'll know it when you see it.
There are plenty of gender-neutral themes, too: stars, cats & dogs, cute bugs like dragonflies or ladybugs, teddy bears, bunnies, lambs, fish, farm animals, ducks, abc's, patterns such as plaids, checks and polka dots, or characters from children's books such as Peter Rabbit.
As for colors, if you don't know whether it's a boy or girl, choose a solid color that can be accessorized either way. For example, paint the room green, and if it's a boy add blue accents; if it's a girl, pink accents. Blue can also work both ways, depending on the shade. Or choose one color you love and accessorize with different shades of that color. Your baby is sure to love it, too.
The theme you choose can even be carried beyond baby room ideas to a theme for your baby shower invitations, thank you cards, birth announcements and more. If you love it, you can use it everywhere. Why not? They are only babies once. Shop our baby collection for more theme ideas!