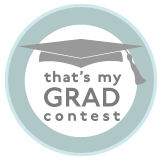 We are coming to the end of our grad contest and we have received some remarkable stories! From overcoming life's hardships and making an amazing life for themselves to helping a single parent get through day to day work by caring for his or her siblings to creating their own foundation to raise money to find a cure for a disease to going on youth mission trips to help those in need. These are inspiring, unforgettable and truly uplifting stories. Our 2011 grad contestants are something amazing and we, at
Pear Tree
, are so proud of them for reaching their goal and continuing to reach for their dreams. Please read the
entries
and vote for your favorite- they could win up to $6k for their future plans!
Check out our graduation announcement collection to share your journey with family and friends!
Dani manages social media at Pear Tree Greetings, which means she actively shares, tweets, pins and posts from her laptop or phone all day long, always stressing the importance of a handwritten note.