When my son graduated from high school last year, I warned him early and often about the fact that he was going to have to write
graduation thank you cards
. We ordered them with his
graduation announcements
and
address labels
, so we had everything we needed on hand early. And when it came time for him to start writing them, I told him I had just one requirement: that he write more than two sentences in each note.
When it comes to graduation thank you card wording, the first two sentences are the easiest. Thank the person for the gift. Tell them how or where you plan to use it, or how much you will enjoy it. The third sentence requires some thought, but is usually the most interesting and meaningful part of the note. I suggested that he try to make a personal connection with the gift-giver, possibly mentioning an experience or memory they shared, or offer a simple thank you for their friendship over the years.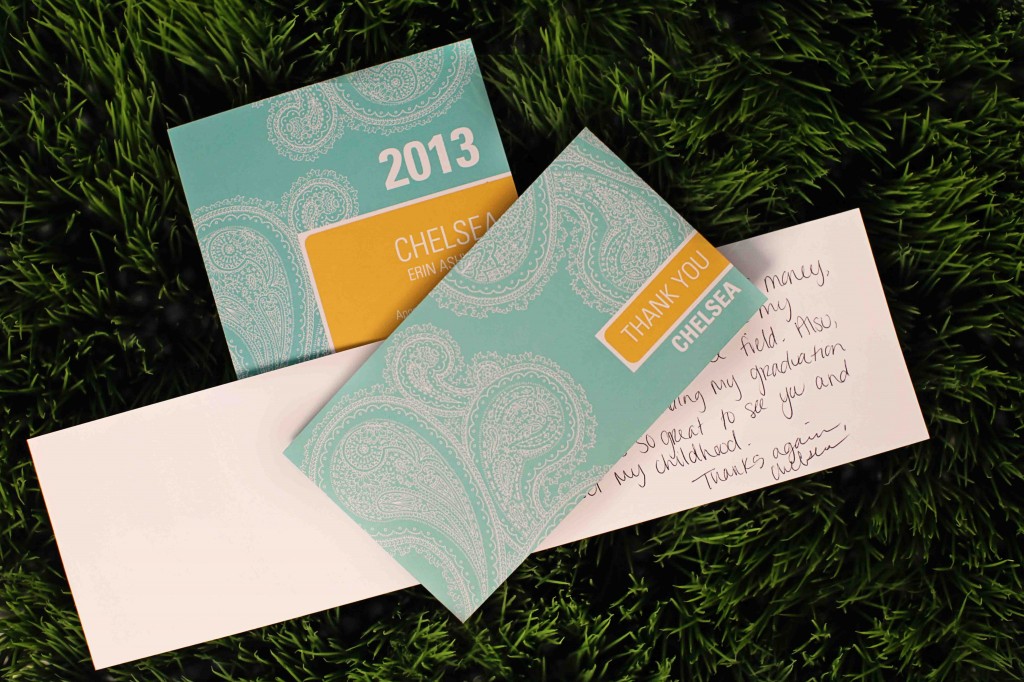 He sat down and diligently wrote thank you cards, a few at a time for about a week, not once asking for help. A few days after he put them in the mail, the 'thank you for the thank you note' comments started trickling in. I must've gotten ten or twelve emails, phone calls, or comments from friends and relatives about what a nice note they got from my son, what a good writer he was, and how surprised they were to receive such a nice, thoughtful note from an 18 year old. My grad had just proved his maturity to me and to everyone around him. I couldn't have been prouder.
Be sure to order matching thank you cards when you order your graduation invitations, so you have them ready when gifts come in! Read more thank you ideas on our blog.