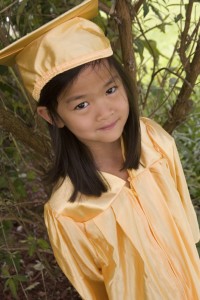 Your child does not have to be a high school graduate to make you a proud parent. There are many milestones along the way that call for a celebration. And sometimes the little ones are the most fun.
Why not send an announcement to family and friends saying your child took his first steps, or knows her ABC's, or how to write his name? Sharing these moments with loved ones makes everyone feel a part of the family. At the end of the year, you can take advantage of kindergarten graduation ideas, including graduation announcements and graduation invitations, to share the achievement with friends and relatives. And you can purchase them in small quantities, which makes it easy and affordable to share as many of these precious moments as you like with the ones you love.
Rather than sending that annual photo, send your long-distance relatives a cute card announcing the kindergarten graduation ceremony—featuring a photo of your grad, of course. Or you can include a photo of his or her favorite finger painting. Either way, that card will make a wonderful keepsake to mark the occasion.
Be sure to check out Pear Tree's selection of graduation announcements for inspiration. And don't miss all the other graduation invitation ideas on our blog!