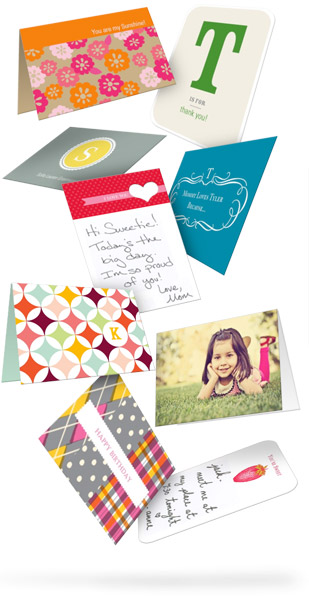 Whenever I leave my house I like to leave a little note behind telling my husband where I went. It doesn't matter whether I'm going to the gym or the grocery store or for a walk, at the bottom of the note, I always like to add a personal message—thanks for something that he's done around the house that I really appreciated, or that I can't wait for our movie night tonight, or just a little smiley face with an 'I love you.' Of course, I am usually writing this on the back of an envelope or a receipt, the nearest scrap of paper I can grab, which tends to take away some of the romance. Now I am excited to use our new mini note cards for these kinds of messages. They are perfect to keep around the house for quick little notes to your husband, kids, babysitter, whomever. Or keep them at work to give your notes to coworkers a little personality. Mini note cards aren't meant to be saved for special occasions or important messages. They are meant to be used everyday, when you want your message to be noticed.
Shop for mini note cards to keep around the house all year round for all your cute note ideas. They make great cards for gifts, too!
Dani manages social media at Pear Tree Greetings, which means she actively shares, tweets, pins and posts from her laptop or phone all day long, always stressing the importance of a handwritten note.