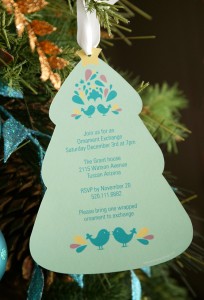 Last year, when we were decorating our Christmas tree, I noticed that our ornament collection was looking a little sad. Several were chipped or broken. The once shiny metal ones were tarnished, and the glass bulbs were cloudy. The collection has gotten smaller, as broken ornaments were not replaced. The ones that survived the toddler years are, for the most part, made of felt, metal or plastic.
Of course we have added quite a few beloved ones: the plaster-of-Paris snowman that weighs about three pounds and makes the tree lean to whichever side it's on. The thumbprints that say, "Thumbunny loves me," made in preschool, and the "My first Christmas" ornaments, to name a few. Still, it might be time to add to the collection.
I've always wanted to have an ornament exchange party. Pear Tree has the cutest tree-shaped, die-cut Christmas party invitations that would be perfect for an ornament exchange. Or maybe I'll suggest it to my girlfriends when we're talking about gift exchange party ideas this year.
I've never been one for themed Christmas trees, with matching ornaments and trendy color schemes. Christmas ornaments just don't have much meaning when you buy a dozen at a time. I love walking into a store that has thousands of ornaments and walking out with just one—the perfect one, carefully chosen for the friend who will think of me every time she hangs it on her tree.