Real cards created by real people like you!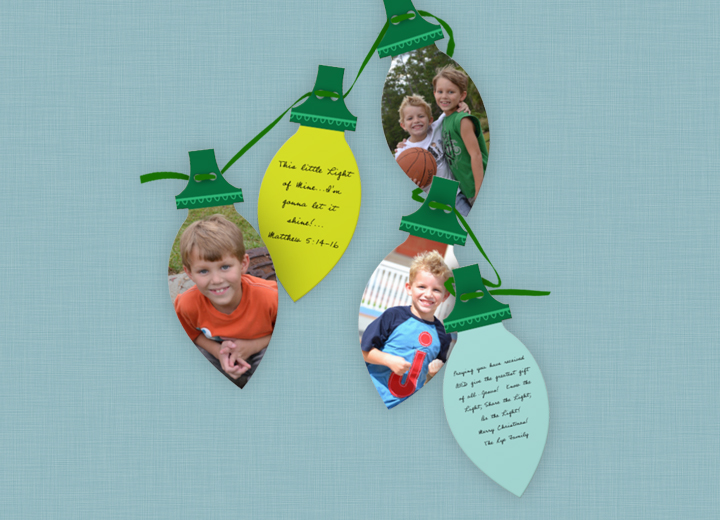 It wasn't hard to choose this month's Featured Favorite, because it was already one of our most unique family Christmas card ideas. We love how our customer, Tiffani, added her personal touches to make it even more unique—a greeting that could only come from her family.
Colorful Lights Ribbon Strand Christmas Cards, five vintage Christmas lights personalized with photos or text and strung on a green ribbon, was the perfect choice for her family. "I immediately loved the light bulbs when I saw them and just knew that was it." This Little Light of Mine is a song she and her boys sing together. Text she had written for her church's Christmas narration was perfect for the second light bulb.
When looking for family Christmas card ideas, Tiffani says, "I like something different. My formula for a good value includes the uniqueness and quality of an item in the equation. I selected this card because I can use it different ways. It will be my card, the toppers for some of my gifts, and garland on my tree."
This card does require stringing the lights on the ribbon yourself, and Tiffani is planning to make it a family affair. "When we look back, it comes down to making memories, and lots of times it is the simple little things that we remember. My husband and two boys will make this into a family evening of education, memories, and fun. We will sort and assemble. We also usually each take turns saying things we are thankful about for the year."
As she says, "It is hard to find a card that plants a seed that is remembered long after Christmas season is passed, and many of your cards have that wow factor that is remembered long after the tree is down." Thanks, Tiffani! We couldn't have said it better ourselves.
Get more ideas on how to make addressing and mailing your Christmas cards a family tradition, or see more Featured Favorites by customers like you on our blog.