We're profiling team members at Pear Tree Greetings to show you which unique Christmas card ideas they chose and how they personalized them.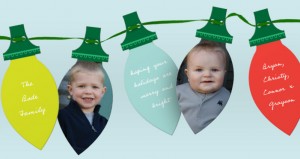 About Christy: I am married and have two young boys, ages 3 and 8 mos. We are a busy family but choosing the perfect Christmas card is important to me. I like to be the first to discover fun new designs, and try to send a card that doesn't look like everyone else's.
Card she chose: Colorful String of Lights – Christmas Cards
Why did you choose this card?
The first instant I saw this card I knew it would be the one I would choose for my holiday cards this year. It was like nothing I had ever seen before and I knew it would 'wow' my friends and family. Also, getting the perfect family-of-four photo is not easy with little kids, and this card is perfect for solo shots. I think we can manage those!
Did you do anything special to personalize it?
I chose the two-photo version of this card (we also have a 3-photo version and a 4-photo version) because our two kids are the lights of our lives (okay, and because I didn't have any other photos I liked). But this card is very flexible. Depending on how many photos you have, you can put one, two or three little messages on each of the other lights. I wanted to tie my message into the light theme, and finally settled on "hoping your holidays are merry and bright." Hope everyone likes it! Now I just have to convince my husband to string them.
Like Christy's choice of unique Christmas card ideas? Find your perfect holiday card with our Holiday Cards MatchFinder.
Read more staff picks: the new homeowner, the pet lover, the baker, the traveler, the busy mom