We're profiling team members at Pear Tree Greetings to show you which unique Christmas card ideas they chose and how they personalized them.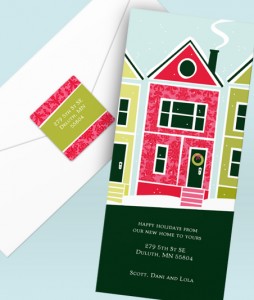 About Dani: I recently moved into a new house with my fiance, Scott, and our 5-month old puppy, Lola. We are excited to share the news of this new step in our lives with family and friends.
Card she chose: Cozy House – Holiday Moving Announcement
Why did you choose this card?
I was looking for cute moving announcements that could double as Christmas cards. This one is perfect to say happy holidays from our home to yours, while giving people our new address in a welcoming way. It looks like a Christmas card, but technically I found it in our moving announcements collection.
Did you do anything special to personalize it?
Not too much! I liked the Christmas colors and wintery theme of the illustration. Other than changing the text to say 'Happy Holidays from our home to yours' and adding our new address, I didn't change a thing!
Like Dani's unique Christmas card ideas? Find your perfect holiday card with our Holiday Cards MatchFinder.
Read more staff picks: the pet lover, the baker, the traveler, the trendsetter, the busy mom