We're profiling team members at Pear Tree Greetings to show you which unique Christmas card ideas they chose and how they personalized them.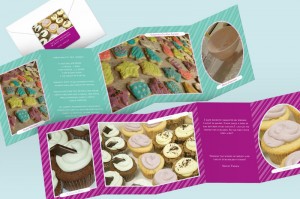 About Shelly: I am 23 and just finishing college. I am an intern at Pear Tree Greetings and am hoping for a full-time job here someday (hint, hint)! I wanted to send a Christmas card to my family and friends to give them a quick update on how I am and what I have been doing. It is just another step to being in the real world!
Card she chose: Stripes and Stories – Creative Photo Christmas Cards
Why did you choose this card?
I chose this card because I love that it will showcase my recipe! I love to bake, and I always get requests for recipes, so why not just send my new favorite recipe along to my family and friends so they can make their own little treats? I also love that I can change the colors and add photos to really show off my fancy Christmas treats and yummy cupcakes!
Did you do anything special to personalize it?
I put my new favorite recipe for Christmas cookies on the front and changed the background color to match the frosting on the cookies. Then I put photos of my cupcakes on the back and changed that background color to match the frosting on those. I think the two colors will look great together when it gets folded up! Last, but not least, I added a 'sweet' Christmas greeting.
Like Shelly's unique Christmas card ideas? Find your perfect holiday card with our Holiday Cards MatchFinder.
Read more staff picks: the trendsetter, the new homeowner, the pet lover, the traveler, the busy mom

Dani manages social media at Pear Tree Greetings, which means she actively shares, tweets, pins and posts from her laptop or phone all day long, always stressing the importance of a handwritten note.