We're profiling team members at Pear Tree Greetings to show you which unique Christmas card ideas they chose and how they personalized them.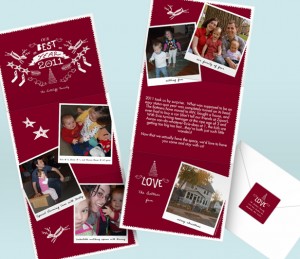 About Stephanie: I am married to an amazing guy and we have two amazing kids, ages 3 and 1. We just moved to Minnesota, and this will be our first Christmas card at our new house.
Card she chose: Best Year – Trifold Christmas Photo Card
Why did you choose this card?
The cute images of stars and reindeer on this card appealed to me. I also like that I can match the background to some of the colors in the pictures.
Did you do anything special to personalize it?
When deciding what to put in my card, I want to share, not show off, and I try to do that by showing the fun and closeness of our family—lots of hugs and holding. I like posed shots, but my husband likes candid shots, so I always try to put in a good mix. From a practical side, I want the kids to have personality but still look cute, so with all that in mind it can be hard to find the right photos. I decided to use the single photo at the bottom for our new home, because it doesn't quite fit in with the others.
Like Stephanie's unique Christmas card ideas? Find your perfect holiday card with our Holiday Cards MatchFinder.
Read more staff picks: the new homeowner, the pet lover, the baker, the traveler, the trendsetter