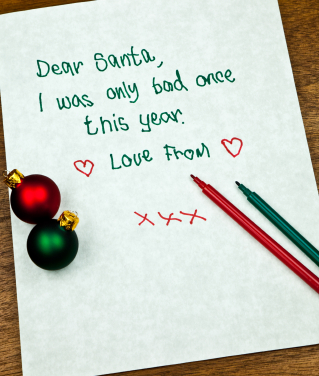 Every year the US Postal Service processes thousands of letters addressed in block letters to: "Santa Claus, The North Pole." Each one is carefully written by a hopeful child, and just as carefully delivered by an earnest mail carrier. No one questions whether or not it will get there without a proper address (of course it will) or whether Santa has time to read and process all those requests (of course he does).
Writing a letter to Santa is a beloved tradition for many families, and one we wouldn't miss. Kids love to send and receive mail, and for parents, it's an inconspicuous way to find out what's on their Christmas wish list. Anything goes for stationery, from personalized kids thank you cards to colored paper, and for extra credit, a drawing inside is sure to win Santa over.
Of course, the "what I want for Christmas" list is the most important part of the letter. We as parents are often surprised by what our kids write—sometimes touched by their thoughtfulness, sometimes appalled by their choices, but always grateful for the glimpse inside their little heads and hearts.
Then comes that magical moment when your child drops the letter to Santa in the mailbox (and peeks again to make sure it went all the way down), trusting that sometime soon a jolly man who lives far away will open it and get their special message. And on Christmas morning, when Santa comes through with the perfect gift yet again, we will all know just how he did it.
Keep reading our blog for more fun kids ideas. Or check out our collection of personalized thank you cards for kids. They don't have to say thank you, and are just perfect for writing a letter to Santa.