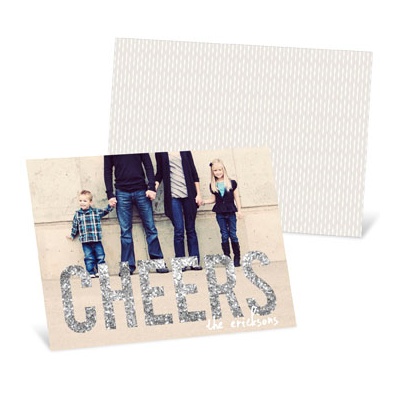 Today is December 21st. Perhaps it's time to admit that I just might not make my December 23rd deadline for sending
Christmas cards
. Considering the fact that I haven't purchased them yet, that seems to be the wisest course of action.
I am not ready to admit total defeat, however. There is still time to send New Year's cards. A holiday greeting is a holiday greeting, right? So what if the holiday isn't Christmas? Minor detail. Besides, you can have more fun and be more creative with New Year's card ideas!
For one thing, you don't have to stick to red and green (not my favorite colors anyway). And New Year's card ideas are all nonsectarian, which makes them perfectly okay to send to anyone—business associates, neighbors and all. You can pick a timeline card and include all the highlights of the year, or pick one great photo and have fun designing your message around it.
I am going to check out Pear Tree's Top 10 New Years card ideas to get started. I will also make a New Year's resolution to get my holiday cards done in July next year. For more New Year's ideas, keep reading our blog. Or start personalizing your New Year's cards right away!