Is it any surprise that today's grads aren't settling for the studio portraits and formal
graduation announcements
that marked their parents' graduations? Today's grads are enjoying the freedom that digital photography and online customization offer, and are looking for graduation card ideas that let them stand out from the rest of the class.
Here are the top five trends in graduation announcements and graduation invitations for the Class of 2012.
Photo is hero
Today's grads are investing in senior portrait sessions that take them on location, involve props, and dramatize their style. Whether they choose one great photo or use multiple shots, the photos reveal their personalities in a big way.
Smells like school spirit
One way to add personality is with color, and with the many color choices available on today's graduation invitations it's easy to show your school spirit by incorporating high school or college colors.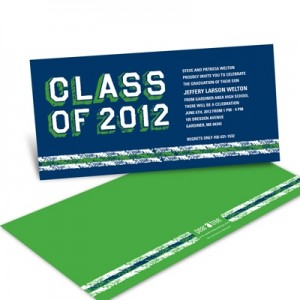 Think outside the square
Teens who want their graduation invitations to stand out can choose from many formats that set them apart. Unique folds, die-cut shapes and layered pieces accomplish this with style.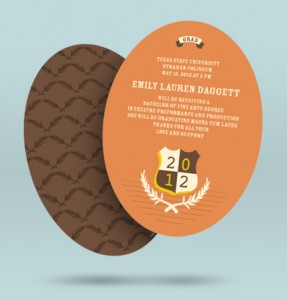 Be bold
Bold stripes are everywhere this year, in fashion, pop culture, home décor–even graduation announcements! If you want to make a bold statement, show your stripes.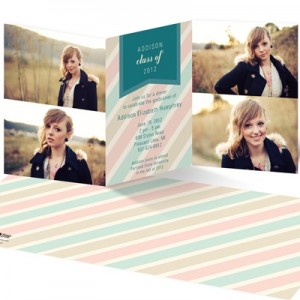 Classic is king
Clean-cut designs, muted colors and traditional patterns are making a comeback. Don't be afraid to make a quiet statement with a classic look–it's chic to be preppy!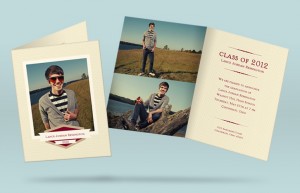 Have you chosen your graduation announcements yet? Keep these trends in mind and you can't go wrong! And be sure to read all the other graduation invitation ideas on our blog.
Whose kids have the coolest Valentines, Halloween costumes and birthday parties on the planet? Angela's. She heads up the product design team at Pear Tree, so it's no contest, really. She lives with her husband and four kids in Tucson, Arizona. To Angela, a perfect design is timeless, and a perfect photo of her kids has them wearing matching (but not identical) clothes. She loves a well-set table, and her favorite holiday is Thanksgiving…no, Halloween…no, Thanksgiving. Does she have to pick?