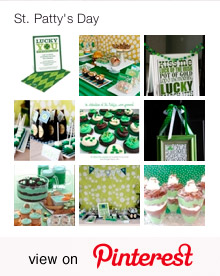 We've got the invitations, food and decorations all picked out. All you have to do is make it happen! Our
Feelin' Lucky St. Patrick's Day invitations
were the starting point for this party theme–along with everything green! The invite's charming argyle pattern and multiple font sizes inspired us to find more patterns and fonts to use in our decorations.
We created a St. Patrick's Day Party Ideas Pinterest board to gather our ideas, and quickly filled it with green drinks, green cupcakes and green snacks! Now we just have to pick our favorites and find some yummy recipes. It will be easy to decorate the cupcakes using these ideas for inspiration. Lucky Charms for party favors? Why not!
We love the striped green tablecloth and background patterns that add so much color to the room. Shamrocks are easy to find or make yourself, and cute green picture frames can showcase our favorite Irish sayings–there's certainly plenty of blarney to choose from! These frames make perfect little props for the food table or to sprinkle throughout the house. With luck on our side and a song in our heart, we're sure to have a grand time!
Like these party ideas? Follow all of our Pinterest boards for photo ideas, party planning, holiday decorating ideas and more!