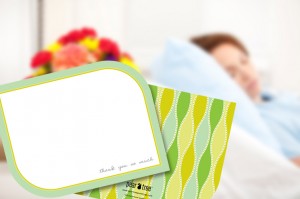 One of our team members recently experienced a scare. His sister was seriously injured in a car accident and hospitalized for several weeks. His family spent hours at her bedside, while friends and relatives sent flowers, gifts, good wishes, and offered their support in many ways.
During one of those many hours of vigil, it occurred to him that his family would probably want to send thank you notes to many of the people who had helped them. "If this hadn't happened to us," he said, "it would never have occurred to me to give note cards as a gift to a family struggling with illness or injury. But that would have been an incredibly thoughtful and useful gift." Not only could they have used them, but it would have given them something to do, other than worry, while waiting in the hospital!
We all struggle with finding the right gift or the right thing to say when a friend needs our support. That's why this has become one of our favorite thinking-of-you gift ideas. If the thought of giving thank you notes seems too presumptuous, blank note cards will be just as appreciated and are more versatile. (Most of Pear Tree's thank you notes, or personalized note cards can be ordered blank, without any message on the front, if that's the way you'd like them.) As this family's story taught us, you never know when you might need them.