Want the latest look for your save-the-dates and wedding invitations? Our team of talented designers works hard to bring the best of the season's wedding trends, colors, patterns and styles into our collection each year.
For 2012 there's something for every type of bride, whether you love vintage looks or want to showcase your boldness with vibrant colors and multiple photos. The best pieces allow you to match wedding colors while incorporating unique and memorable design elements.
Vintage is new
Vintage styles that recall fashions of the past, with a contemporary twist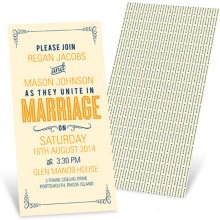 Floral designs are the perfect pick for this year's brides
Over 25 color choices to ensure a perfect match with your wedding theme
Stylish save-the-date cards & photo card invitations that reflect your personality
Pocket invitations that integrate all coordinated pieces in one package
Unique die-cut shapes that establish a memorable look for your wedding
Whose kids have the coolest Valentines, Halloween costumes and birthday parties on the planet? Angela's. She heads up the product design team at Pear Tree, so it's no contest, really. She lives with her husband and four kids in Tucson, Arizona. To Angela, a perfect design is timeless, and a perfect photo of her kids has them wearing matching (but not identical) clothes. She loves a well-set table, and her favorite holiday is Thanksgiving…no, Halloween…no, Thanksgiving. Does she have to pick?