Thank you to all the teachers that submitted an entry for our Teacher Appreciation Contest during Teacher Appreciation Week. We were pleased to see how much each of you values the importance of teaching handwriting, at a time when kids spend so much time typing, tapping and texting. We thank everyone who entered and we have chosen our three winners for the $100 cash prize.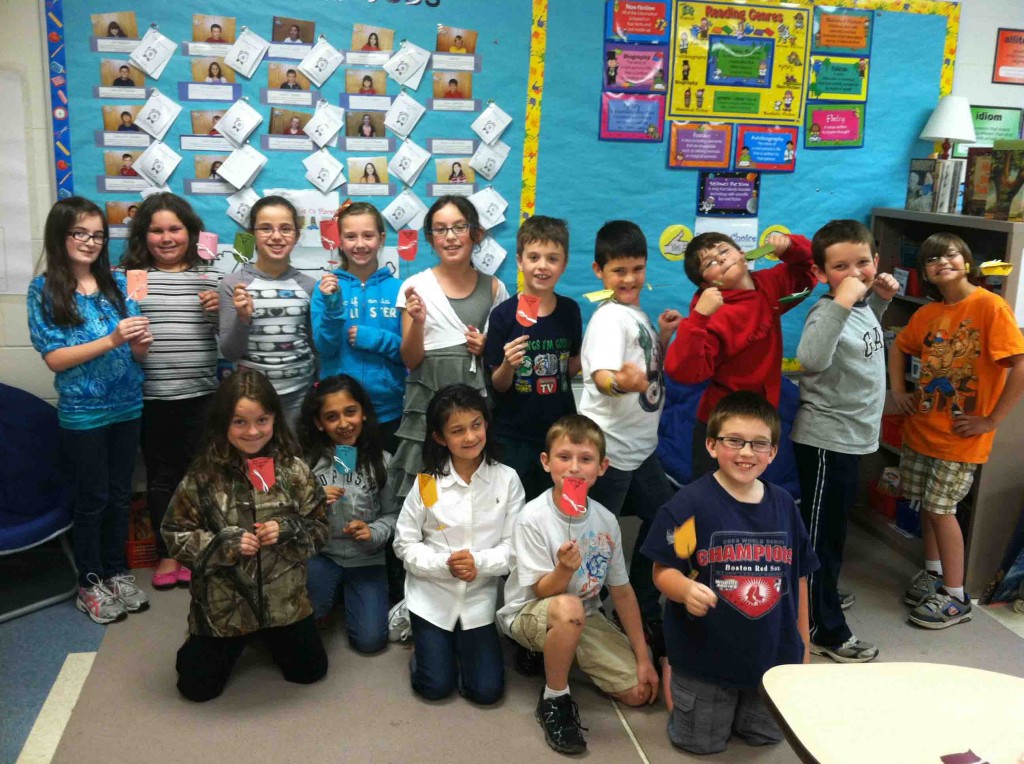 One of our lucky winners is Jessica who teaches preschool in North Dakota.
My preschool-aged students love handwriting letters. While I am sure my students type away on the keyboard at home, I teach them how to write letters by handwriting them. When I teach them how to write the letter "A", for instance, I tell them to write this letter by saying, "Up, down, cross in the middle." The students love the technique of making the letter A, and those handwriting techniques give more meaning to each individual letter. It challenges their brains more if they have to remember how to actually draw the shapes of the letters. Handwriting helps my students remember the letters and the words they write. In addition to the cognitive benefits of handwriting, they develop a personality to their words when they handwrite them. Every person—whether young or old—has a unique handwriting style. It is a fingerprint that separates one writer from the next.
Jessica said, "With the 100 dollars, I am going to buy my preschoolers new books, ones that are multi-cultural. The more our world becomes digital, the smaller our world is becoming. Hence, it's very important to open young children's eyes to other cultures so they can succeed in the future." Jessica continued, "They [preschoolers] sometimes get discouraged reading the same books on the bookshelf, and they will be so happy when they see new ones! This will encourage them to read and, more importantly, give them more knowledge about the world." Pear Tree agrees with you, Jessica, and we are happy to help expand your book collection!
Our second winner is Christina from Texas currently teaching 7th and 8th grade math, but will be moving to 5th grade math next fall.
I currently teach Math at St. Monica School in Dallas, TX. People may think that handwriting is not important to Math, but handwriting is super important. Having good handwriting is important to students when writing down their work and in organizing their thought processes. If a student can't understand what they have written and mistake a "2″ for a "z" or a "b" for a "6″, or can't read their work at all, then math cannot be learned or it becomes cumbersome.
Christina was thrilled as well to use her $100 towards her new classroom. Christina said, "I think the more experience I have as a teacher; the more I realize how important penmanship is even with the technology that is available. I will definitely be on the look-out for ways to help the students with their organization and handwriting in math class!"
Lastly, our third winner is Taylor, a 3rd grade teacher from Massachusetts.
Handwriting is essential in all aspects of learning and life. In my 3rd grade class, I've actually done a read-aloud with a book that has poorly written handwriting. I used it to model with students how important it is to write neatly! The kids were so animated and bothered by how poorly written it was. We discussed how hard it was to understand and read if it was not done neatly. From that point on, my students pay extra close attention to how they write. They actually bring me in handwritten notes to show how much they practice! We even connected it to math and how important it is to write numbers and symbols clearly to understand the math concepts!

In a school that has little technology and no access to classroom computers, we take pride in our writing, especially in this age of technology.
Taylor was happy to win and plans to use the money towards new supplies to update the reading centers in the elementary school. Taylor also sent in the photo of the 3rd grade class (above).
Congratulations to Jessica, Christina and Taylor and to everyone who entered and is helping enforce handwriting in their classrooms!