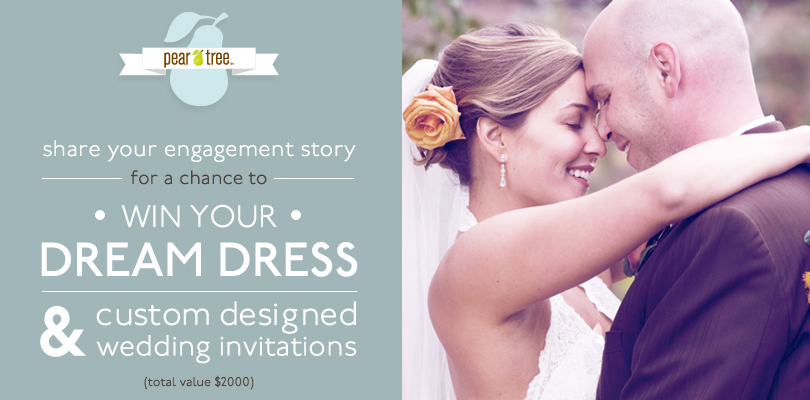 Wouldn't you love to win $1,500 towards your dream wedding dress, plus custom-designed
wedding invitations
? What bride wouldn't!
For a chance to win this dreamy grand prize, all you have to do is share your engagement story and a photo of you and your fiancé in our Dream Wedding Contest at www.facebook.com/peartreegreetings. Then share the story with your friends to get votes. Three lucky winners will be chosen by Pear Tree from the top 5 voted entries!
Grand Prize: $1,500 toward your dream wedding gown, plus custom designed wedding invitations from Pear Tree Greetings, a total value of over $2000!
2nd Place: $300 in Pear Tree Greetings wedding invitation stationery, plus a $200 Visa gift card
3rd Place: $150 in Pear Tree Greetings wedding invitation stationery
How to enter:
1. Go to Dream Wedding Contest on our Facebook page and Like us to enter.
2. Upload a photo of you and your fiance, and the story of your engagement.
3. Get friends and family to vote!
To enter, you must be a 2013 bride so you'll have plenty of time to choose your dress and design your invites! No purchase necessary. Void where prohibited.

As the marketing copywriter for Pear Tree, Cathy knows how intimidating writing a Christmas card or thank you note can be. When she is not writing, she is busy gardening, doing DIY projects around the house or trying to keep her three teenage boys in line.