Our
Dream Wedding Contest
is in full swing and we have so many beautiful engagement stories that we had to share a few with you! There are some crafty, romantic men out there and these stories will put a smile on your face. Remember to vote for your favorite. First place winner receives $1,500 towards a dream wedding dress and custom
wedding invitations
by Pear Tree!
Kathryn: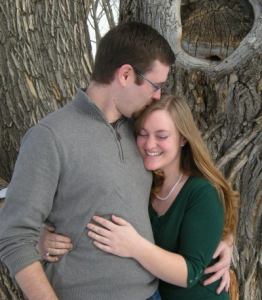 My fiancé has the incredible gift of always being able to surprise me, even though he is TERRIBLE at keeping secrets. When he declared his intentions and surprised me on Valentine's Day with flowers, candy, tea, and a goofy poem, that's when I knew he was something special and he continued the trend when he proposed. I had known about the ring since January so when a beautiful Saturday morning in April rolled around, you'd think I'd have a clue. We were going to see the musical Wicked with his parents and he was distracted as soon as we got into the car. The musical was fantastic and we were full of energy as headed out to dinner at Tomayo. We followed dinner with a walk around town and then drinks at the bar of the restaurant. The thought that keeps coming back to me is how stunningly perfect the day was. The musical incredible, weather perfect, food exquisite, the lights were lit up downtown, the conversation flowing and lovely. After we had paid for our drinks at the bar, my fiance said "We should go for a walk… right now". I was baffled since we had just gotten back from a walk around town. As we exited the door, I suggested that he pull the car around since my shoes were getting a little uncomfortable. He replied, "Funny you should mention that," and a horse-drawn carriage pulled up to where we were standing. Continue reading Kathryn's story…
Roxanna:

My fiance and I were unable to celebrate Valentine's Day together because he was on travel for work, he decided to make it up to me with a surprise belated Valentine dinner (since I love surprises). It was a cold Saturday evening, as we headed to dinner. Before I knew it, we were next to the Renaissance Center building walking toward the Riverwalk in Detroit. As I complained about being cold, we walked closer and closer to the water. Finally, he insisted I get my camera out and take pictures of the beautiful sunset. To be honest, I didn't want to because that required me to pull my hands out of my pockets to find my camera and I was freezing. I did it, I got my camera and snapped some pictures. As I turned around to say "let's go", I found him on one knee. It didn't even occur to me what was going on, so I immediately told him to get up. Continue reading Roxanna's story…
Nesli: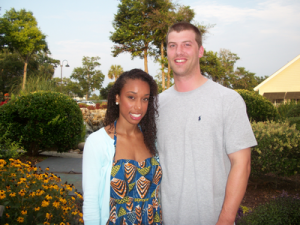 On Monday, June 18th, Nesli Monroe became the happiest girl in the world, yes, THE ENTIRE WORLD! Monday evening we went to SALS for dinner, and let me remind you that we only go to SALS on special occasions. After enjoying a delicious meal at SALS as usual, I was filling extremely full. So as we are walking out, Zach asks me if I want some dessert and me being super full, I say "Nooo, not really, I'm too full." So then, he asks me if I want to go to Colonial Williamsburg for a walk! And if you know me, you know I'm a health nut, so of course I want to go walk around and "burn some calories". So, we get to Colonial Williamsburg, and we head to Berry Body (a frozen yogurt place), and Zach and I split a small size of frozen yogurt. After we get our frozen yogurt, we start walking down Duke of Gloucester Street and onto the Palace Green (big, green field in the center of DOG street). So we are walking and talking, and if you know Zach, you know that he walks slow! And it drives me nuts because I'm a fast walker! So he is walking slower than usual…then he stops and says "Hold on a minute, I need to tie my shoe." Continue reading Nesli's story…
Read more entries here and don't forget to vote for your favorite!