Maybe you're not thinking about holiday card ideas quite yet, but our busy little elves have been working on our new collection and we can't wait to show you! Here's a sneak peek to put you in the mood. Watch for our new Christmas cards sometime in August.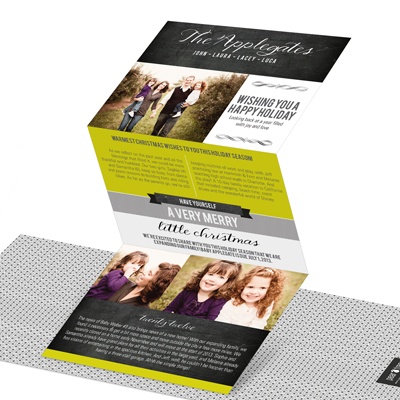 Tri-fold Classic Tales – Christmas cards
Tell the tale of your family's eventful year in retro style! These Christmas cards in a tri-fold layout open to reveal a mix of classic flourish and ribbon style borders, along with room for three favorite photos. Add to the customization with space to share your Christmas letter and your choice of color to accompany the gray and black.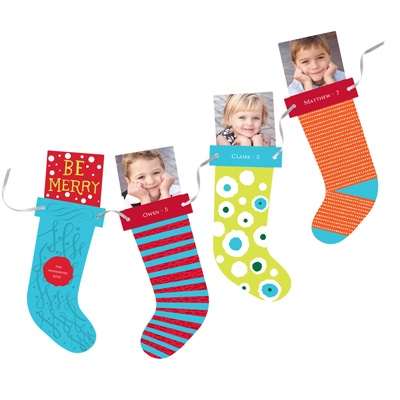 Stocking Stuffers – Christmas cards
In keeping with holiday tradition, your stockings will be hung by the mantel with care, or on the tree and admired by all! These unique holiday cards, made of brightly colored cut-out stockings strung together with ribbon, are sure to hang in loved ones' homes throughout the entire holiday season. Each stocking is decorated with a bold graphic pattern and stuffed with either a holiday message or one of three favorite photos. Ribbon included, customer assembly required.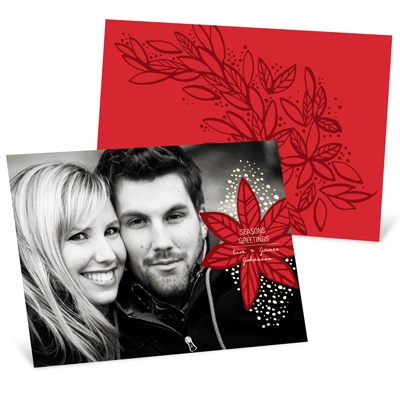 Fresh Poinsettia Horizontal Photo Christmas Cards
Family and friends will adore your favorite photo on the front of these picture Christmas cards, set off by the fresh and dashing image of a poinsettia. An ideal combination to make this season picture perfect!
See more Christmas Cards sneak peeks here.