My best friend, Angie, is as obsessed about planning good parties as I am, so it's a no brainer that we team up when considering kids birthday party ideas. Angie knows to plan well in advance. We even did a little mini photo shoot with her daughter, Kate, so she'd have the perfect photo on her birthday party invitation. I'll let Angie herself tell you all of her girl birthday party ideas and planning this adorable Pinkalicious birthday party—she did a fabulous job!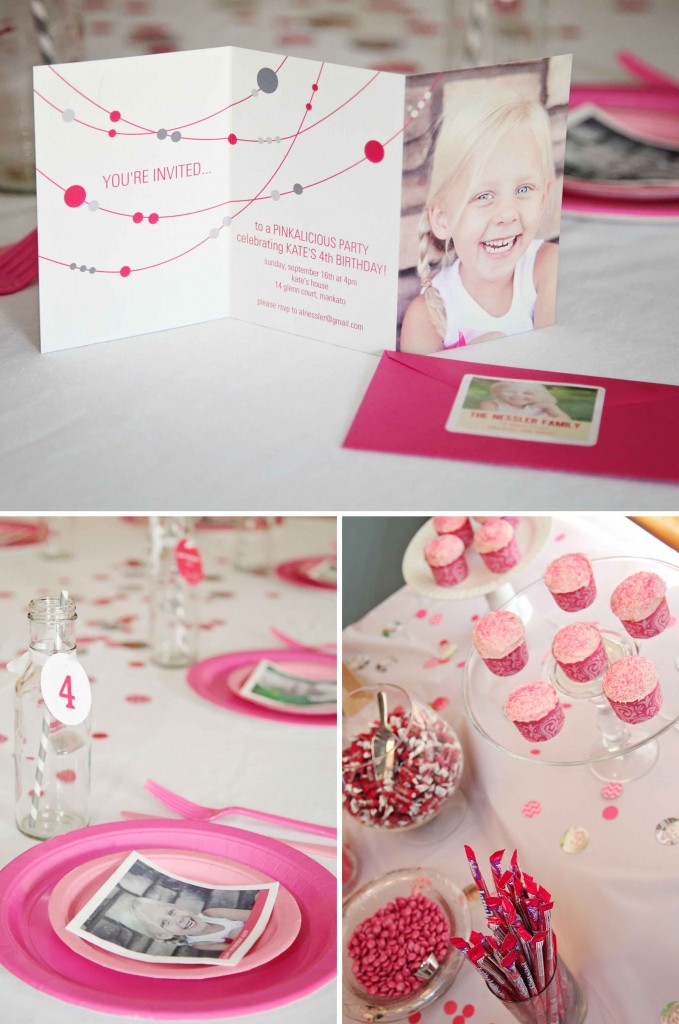 When planning parties for my little ones, I start brainstorming months in advance. Not because it takes that long to plan, but because it allows me time to keep an eye out for good bargains and unique finds to tie into the theme. So when it came time to plan my daughter, Kate's, 4th birthday party, Kate and I started talking about girl birthday party ideas early. We talked about all the things she loved and soon found many of her favorite things revolved around the color pink…and so, a Pinkalicious birthday theme was born.
Once a theme was decided, the first thing I did was search for Kids Birthday invitations. I got a little creative when it came to invites. I picked the Strung with Surprise Birthday Party Invitations that are shown as a 60th birthday party invite (and in yellow). Luckily, with Pear Tree's color swap options, I was able to switch up the colors, added a picture of my little lady and chose a hot pink envelope and personalized Snapshot Photo Address Labels to complete the project. I loved the way it turned out! In the example of the invite, the back copy was used for an RSVP. I changed it up and added a note that said 'Don't be afraid to wear pink!' And, to my surprise, almost EVERY single guest wore pink! My neighbors probably wondered what the sea of pink was for, but it was so cool to see everyone participate and get in the spirit.
Next step was to plan the décor. Since we were in the midst of a helium shortage I knew balloons were probably out, so to add some visual oomph I decided on a pink candy/dessert bar. It served dual purpose as a major visual piece and as favors for the party guests. I worked with a local wholesaler of vending machine products to purchase the candy in bulk.
Finding containers to hold the candy was easy. Once I told friends, family and coworkers about the party I was planning, the offers of containers came in left and right. This was awesome, and allowed me to use a variety of different sized and shaped glass containers. I placed metal scoops (again borrowed from friends) in each for dishing the goodies. As a final treat, I made pink lemonade cupcakes topped with pink lemonade frosting and pink crystal sprinkles. Cupcake wrappers were purchased at TJ Maxx for $1!
For party favors, I dressed up small craft paper bags, purchased at a local hobby store, and personalized in hot pink Sweetly Swirling Address Labels that said, 'So sweet of you to come! Enjoy! Love, Kate.' Helpful hint: Little kids, candy and portion control don't mix. To keep kids from taking heaping bags of candy, use small bags and small scoops. It gives the kids a nice variety of candy but also keeps them from depleting your stock.
For table decorations, I purchased a variety of pink colored plates, cups and silverware. A personalized photo napkin featuring a picture of the birthday girl was placed on each spot. I used old fashion milk glasses with Monogram Meets Marriage Personalized Favor Tags and filled with pink lemonade and gray and white striped straws to complete the look.
Lastly, the tables and candy/dessert bar were showered with Chevron Celebration Graduation Confetti of Miss Kate. It was by far one of the biggest hits of the party, and I found friends and family loading up on it at the end of the night as a memento to bring home.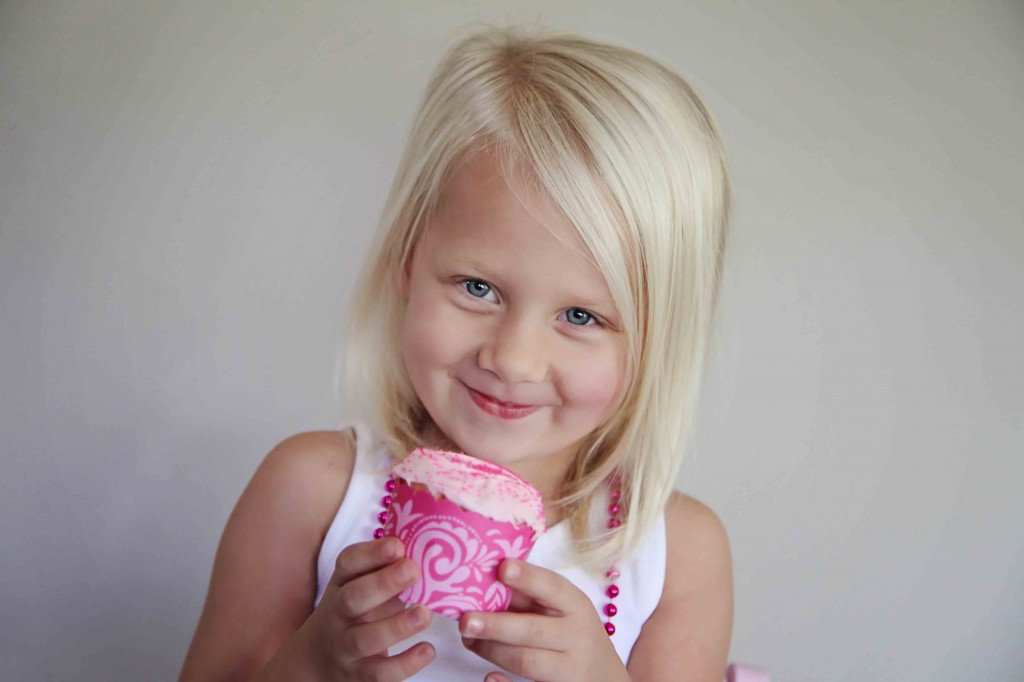 Looking back, the party came together better than I could have imagined. We had an awesome time celebrating an awesome little girl. My love for theme-ing parties grows with each birthday, and you better believe Kate and I have already been brainstorming for next year's party. Thanks for allowing me to share, and happy planning.
Look for more kids birthday party ideas on the Pear Tree blog, or jump right in and start shopping for kids birthday invitations at peartreegreetings.com!

Angie:
Our guest blogger, Angie, is a busy wife and mom with two energetic (and adorable!) kids, Kate and Miles. She works as a Marketing Brand Manager, loves her husband and girls' nights equally, and enjoys spending free time at the lake with family, shopping, playing volleyball, and Pinteresting—that is a word, right? Read more about Angie and her family at nesslerfamily.blogspot.com.