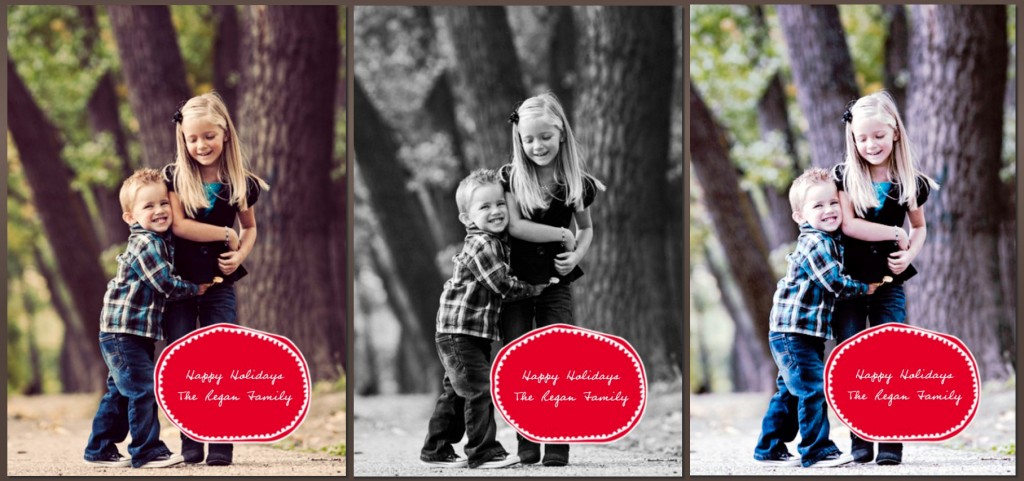 These days you don't have to be a professional photographer to follow the latest photo trends. We all now have the ability to create special effects and filter colors and light with a simple click in our photo editing software—no messing with lenses, filters or film.
These three very different looking photo Christmas cards were created using Pear Tree Greetings' easy-to-use Personalization tool. After choosing a card and uploading our color photo, we clicked on the photo filter tab and tried two different filters on it, saving each card to see which one we liked best. The first is the original photo; the second was made using the black & white, plus contrast filters; and the third using our vibrance filter.
The original photo is warm and sweet, for a homey, traditional feel. The black and white version brings out the children's faces and makes the red holiday message pop. The vibrance version creates a modern look by intensifying the colors—which could look great on a holiday card with a bright non-traditional color palette. Apps like Instagram have make photo trends like these a hot topic. Which one do you like best?
Be sure to play with different photo filters when you create your Christmas cards. And for more family photo ideas, check our blog.