Do you love to create a new theme or color scheme for your Christmas tree each year? Looking for inspiration, we turned to Martha Stuart for this year's most creative
Christmas tree decorating ideas
.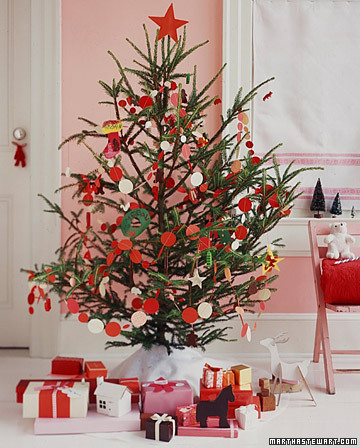 Unbreakable Tree. Curious little hands can't help but be drawn to the irresistible magic of a Christmas tree. With an unbreakable tree, you can let them explore without worry. Nylon threads provide invisible support for a small tree, which is decorated entirely with easy-to make, kid-proof ornaments.

Golden Tree. Kevin Sharkey punctuated this 10-foot-high flocked tree with golden glass balls, then added new and vintage glass icicles. Cut felt serves as a tree-skirt-cum-snowdrift.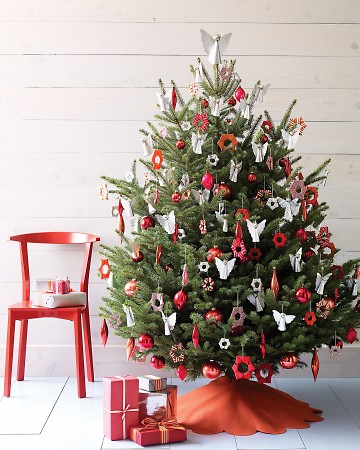 Heavenly Tree with Angels and Stars. Up the elegance of this year's evergreen with beautiful celestial symbols. Delicate silvery angels flit among hand-tied ribbon stars.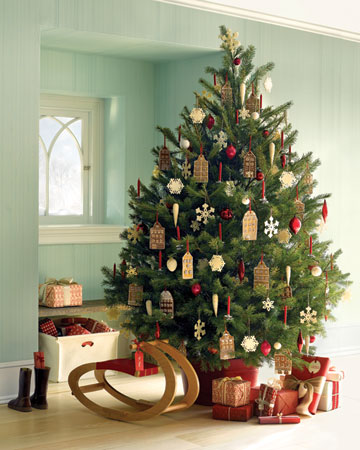 Gingerbread Tree. An entire village of gingerbread houses adorns this tree, creating tempting trimmings. The windows and doors have been crafted from dough that is different from the facades — the lighter one is sweetened with honey, the darker with molasses — to provide contrast.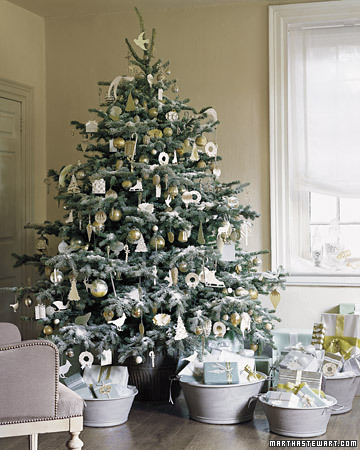 Frosted Tree. A Christmas tree dusted with snow looks even frostier when decorated exclusively in shades of silver, white, and cream. Simple paper-and-glitter ornaments mix well with vintage metallic pieces. Glitter ornaments are easy to make and can be saved from year to year.
See the rest of Martha Stewart's Christmas Tree Decorating Ideas at marthastewart.com.