Our Holly Days
is another one of our beloved Pearistas. Holly decided to create a
DIY Elf-ing Treat
using Pear Tree's
Christmas notelettes
. We love homemade Christmas gift ideas and we wanted to share this one with our readers. Enjoy!
J & I have the sweetest neighbors. They are always bringing over toys for the boys to play with & sneaking them Squeez-It's on hot days. Sometimes they bring their cat out to let the boys pet her & they always stop to listen to their stories.
I think elf-ing your neighbors is such a sweet idea & it's a tradition that J & I decided to start with the kids this year. I had some extra apple butter from the batch I made, so we decided to use it for the neighbors' elf treat. And Pear Tree's sweet new Christmas Notelettes & Christmas gift tags/personalized stickers are perfect for elf-ing!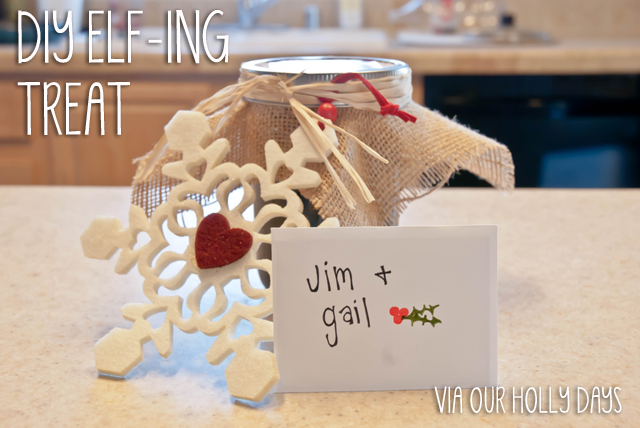 Isn't this just the sweetest little thing? Anything that is miniature is automatically 10x cuter. Besides, homemade apple butter. I went ahead & brushed off both my mom win & awesome neighbor shoulders for this one.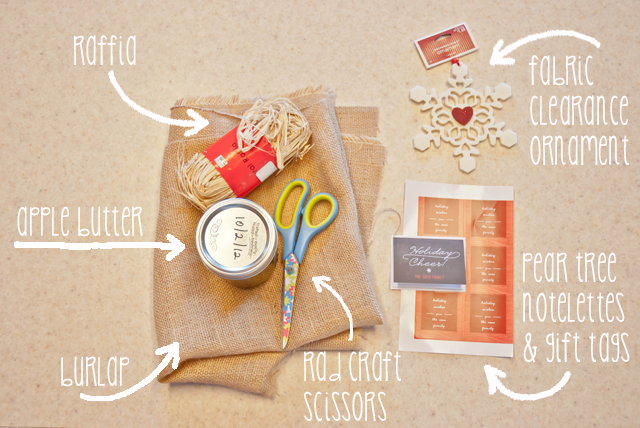 Clearly, I need a chalkboard intervention, because I chose these chalkboard Christmas Notelettes for our elf gifts. And I loved the woodsy feel of these Christmas gift tag stickers. I know the point of elfing is to be anonymous, but we live in a super rural town & we didn't want to skeev people out, so we added our family name with both the stickers & Notelettes.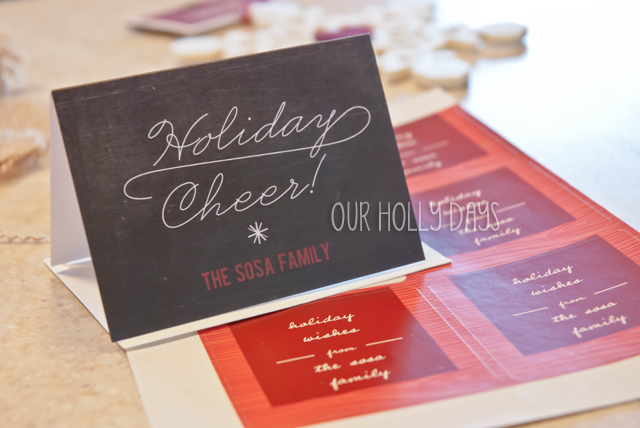 I wrote a quick little note on the inside about some ways to enjoy apple butter & thanking them for being, "sweet," neighbors. Get it? Eh? EH?!?!? BECAUSE APPLE BUTTER IS SWEET, YOU GUYS!!!
I put the burlap on top of the lid & had J screw the cap on because my pregnant hands were not cooperating with me. Then I stuck our personalized sticker on top of the burlap, making sure the edges fell underneath the lid for extra security. I strung the ornament onto the raffia & then wrapped it around the lid, tied it into a knot & voila! Santa should hire me.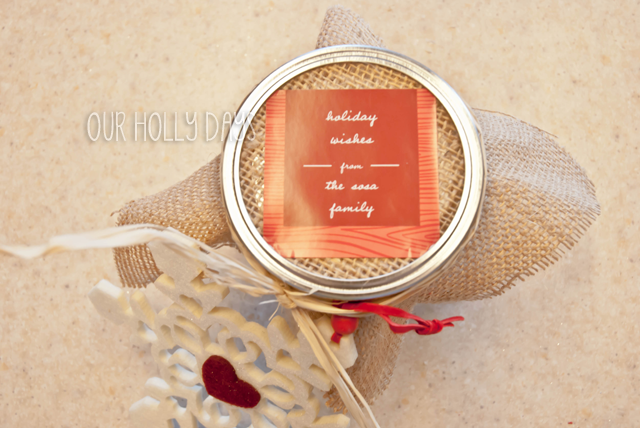 Lastly, I printed out the elf instructions/sign so my neighbors didn't think I was some kind of holiday obsessed whackadoo could play along if they decided to.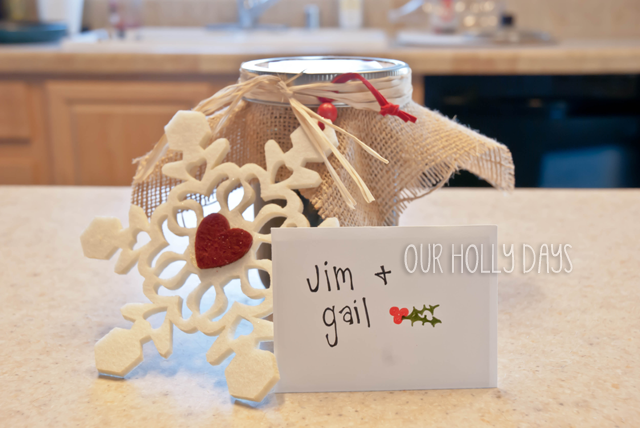 The kids all marched the elf gift over to our neighbors' house while they were away at the store. They came home an hour or so later & thanked us for the sweet surprise. Collin was very proud of the, "pwesent," he gave to them.I really enjoyed our experience with Pear Tree & can't wait to share our Christmas Cards with you guys when we get them! They have some of the most adorable little designs & ideas.
Homemade Christmas gift ideas can be fun for all the family to enjoy. Read Holly's full post and all the DIY instructions at www.ourhollydays.com.