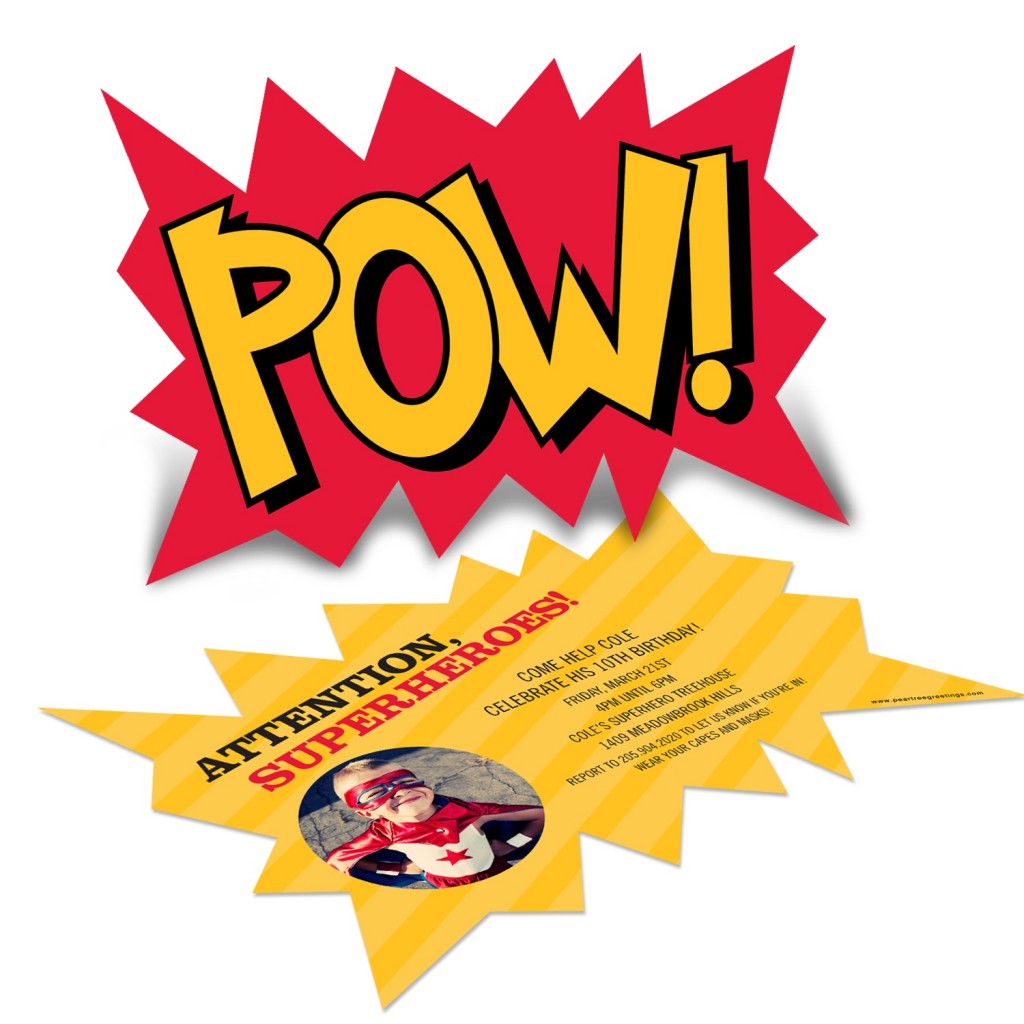 A note from Christy:
I am pretty lucky to have some really great friends, and even luckier that many of them like to go wild planning their kids' birthday parties. Below is a post from my friend from college, Sarah, who threw her son a pretty awesome Superhero Birthday Party. Good timing, as my boys are set on a Batman/Superhero party next, her party gives me lots of ideas! Enjoy Sarah's post!
Conley's Superhero Birthday Party
I will confess that Conley's 2nd birthday party was very small…in fact, it might be a stretch to call it a party since it was just Conley, mom, and dad. Since I went small last year, I knew that I wanted to do something fun and special for his 3rd birthday. His current obsession right now is Spiderman, so we decided to celebrate with a Superhero Themed 3rd Birthday Party!
Since I already knew that Pear Tree had a Superhero themed invite, Calling All Superheroes! – Kids Birthday Invitations, that would be perfect, I didn't need to look far for invites. Naturally, Conley had dressed up as Spiderman for Halloween, so a picture of him in his costume paired with this invite was the perfect inspiration to get me started on superhero birthday party ideas. Pear Tree had matching Calling All Superheroes! – Address Labels, so the invite process was set!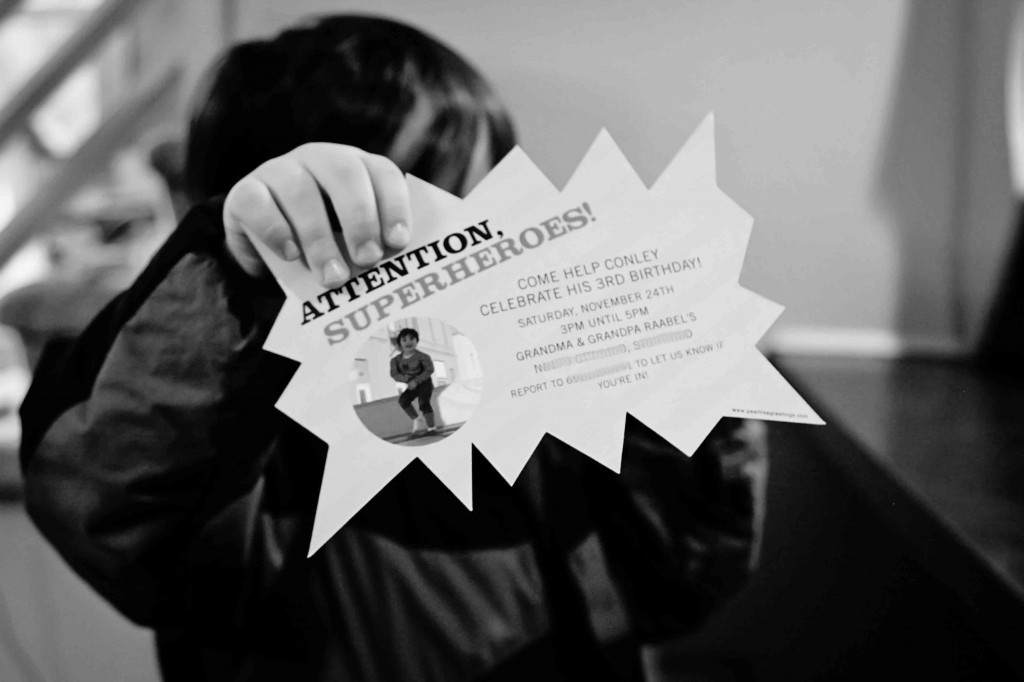 Since Conley's birthday is the weekend after Thanksgiving, I needed to plan ahead more than I normally would since we would be having the party 3 hours away at his Grandma and Grandpa's house. The need to plan ahead was probably good for the procrastinator in me, and honestly I was so excited about this birthday party that I probably would have planned ahead anyway!
Though Spiderman was the inspiration for the party, I didn't want him to be the only focus. I was definitely looking for a general Superhero theme and, of course, the next place I turned was Pinterest where I started a Superhero Birthday Party ideas board. There were SO many cute ideas it was almost overwhelming! I really wanted to make use of things I already had as much as possible and I wanted to maximize some favors to double decorations as well. I ordered Chevron Celebration Confetti from PearTree that highlighted some more of Conley in his Spiderman Halloween costume and I customized the colors to set the stage for my color scheme of reds, blues, greens, gray, and yellows. My favorite part about the confetti (other than the photos, of course) was the chevron pattern which I am in love with right now and thought it fit in great. Even though they were in the Graduation section of Pear Tree's website, I was able to customize Stringing Success Photo Napkins to make them work perfectly for the party. Add in free printables I found through Pinterest from One Charming Party that I made into cupcake toppers, gray striped paper straws purchased through Amazon, and a few crafty touches, and we were pretty much set! The superhero centerpiece was a template I purchased through Etsy, and I was really happy with the way they turned out to pull together the theme on the main table.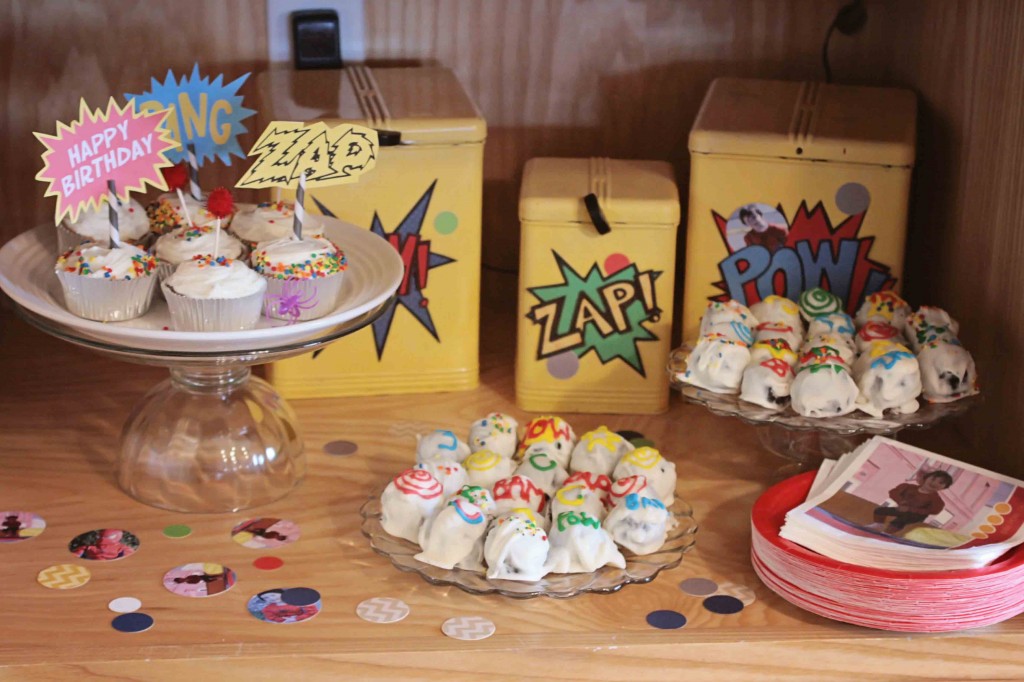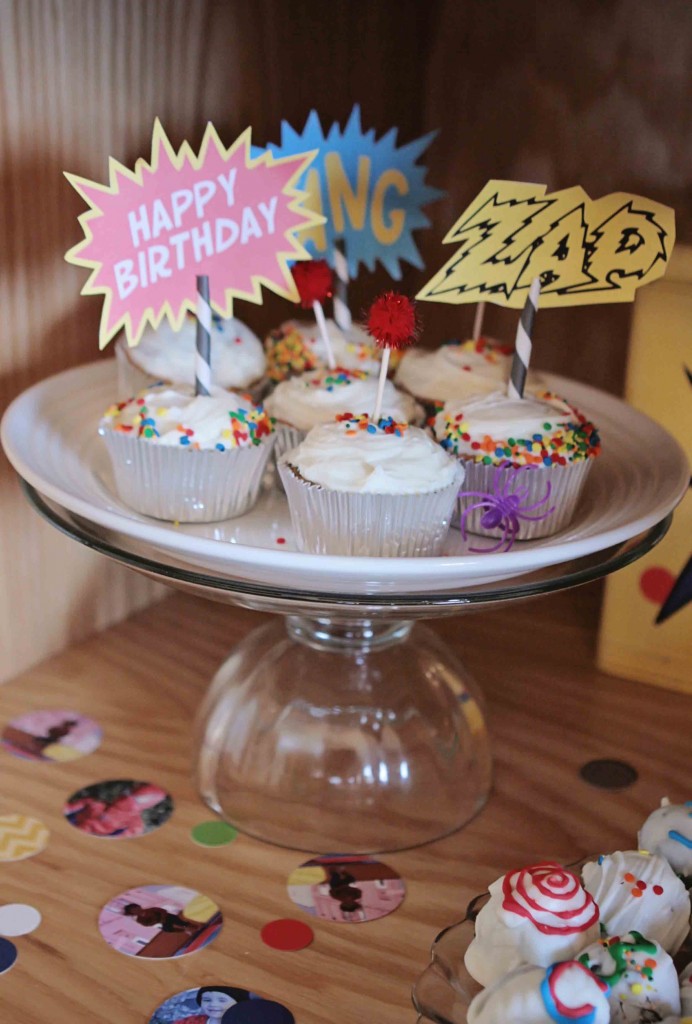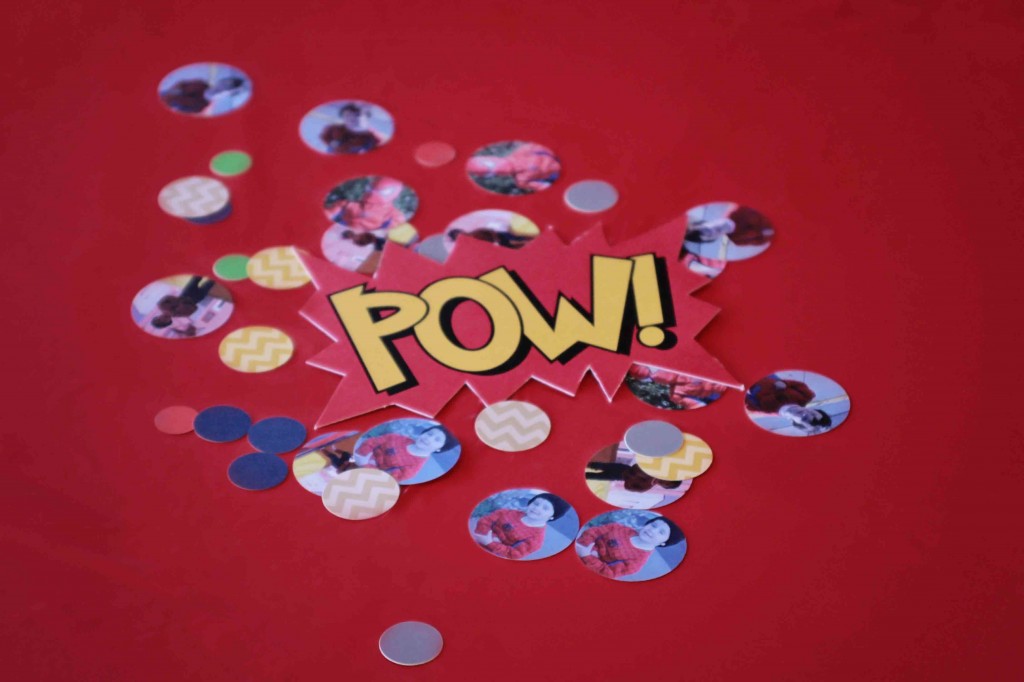 For party favors, I took plain white bags and filled them with some fun, inexpensive items that Conley likes and that were a lot of fun—glow bracelets, punch balloons, superhero fruit snacks, spider and bat rings (thank you, Halloween clearance!), and a little bit of candy. I sealed them up with personalized Big Numbers For Boys – Kids Birthday Favor Stickers that I changed to say "You're super! Thanks for coming to my birthday party!" with a big number 3 and matching party colors. Simple and perfect! Some time during the party planning phase I was inspired to make capes and superhero masks for all the kiddos and, enter procrastinator, I finished those up just in the nick of time (a little felt, adhesive spray, Velcro, and scissors!). They were far from perfect, but they were a fun part of the party and the kids, all took theirs home.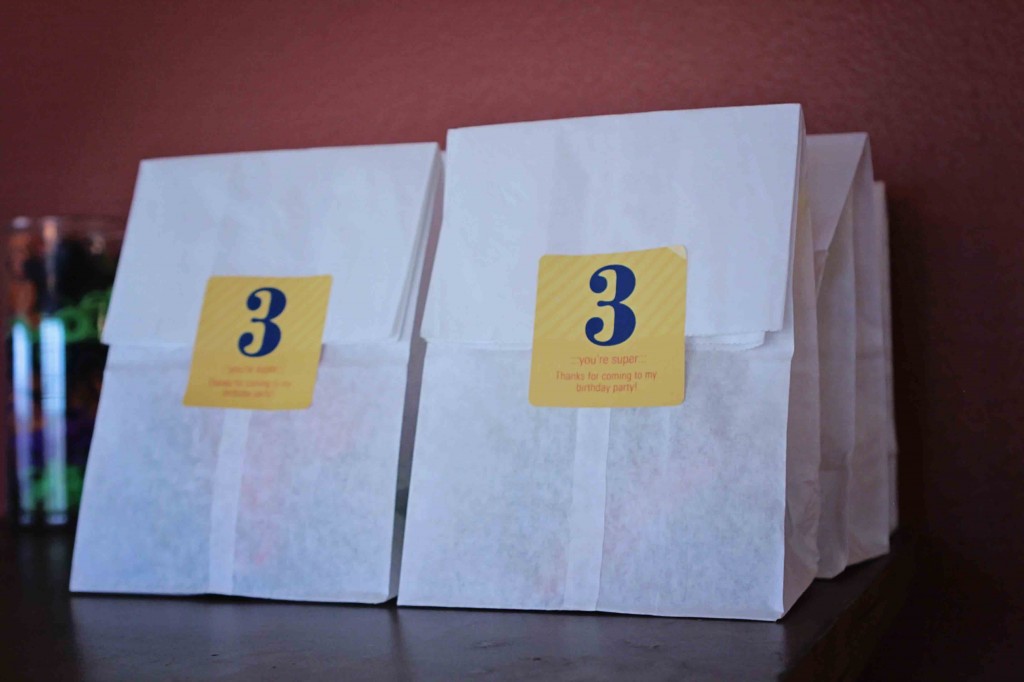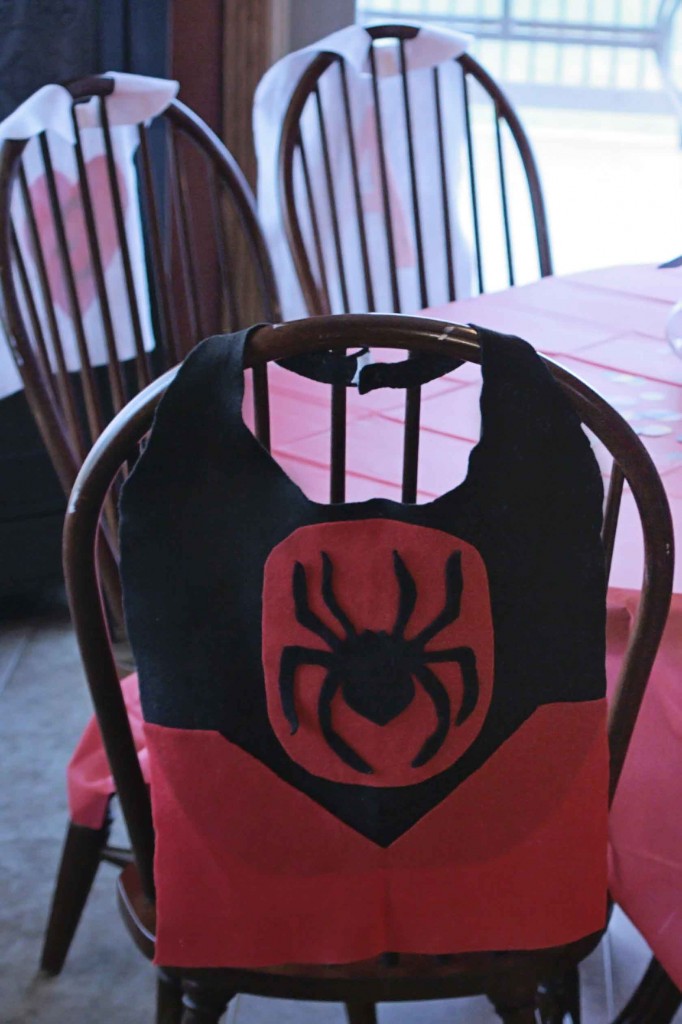 Though Pear Tree does offer Calling All Superheroes! Kids Thank You Cards that pair perfectly with the invite, I couldn't resist going with the Subtle Chevron Thank You Cards to get the chevron pattern one more time and instead I coordinated this card with party colors and changed the text to say "You're Super!" Not only could they be used after the party, but we have a few left over to be used for other occasions as well.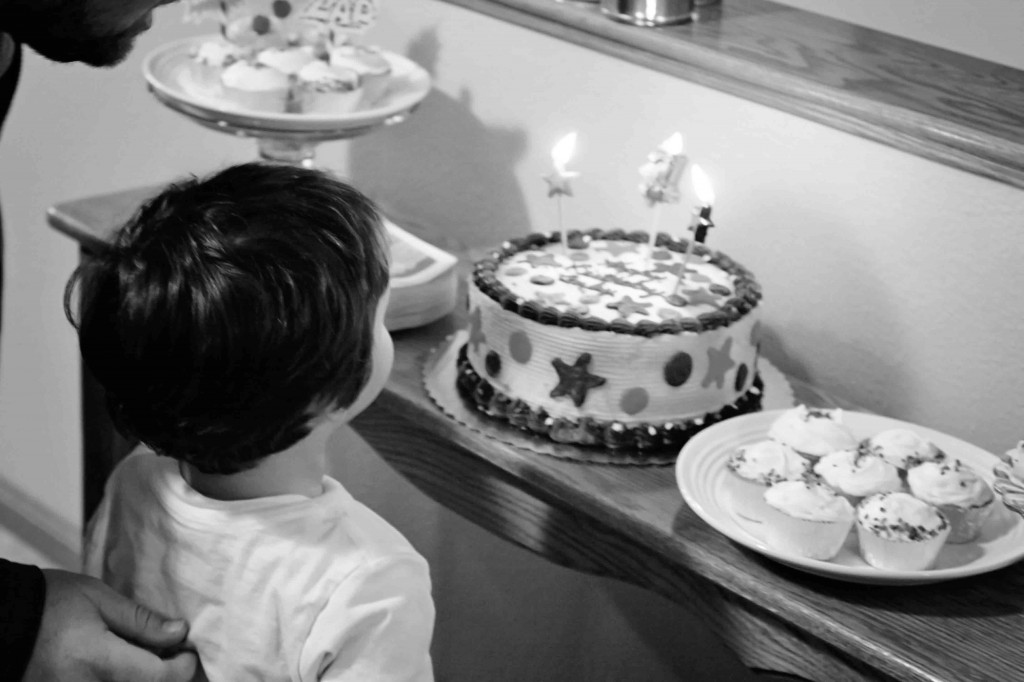 The one part I couldn't plan ahead was how the birthday boy would behave during the party, but even that ended up working out better than I could have anticipated! The menu of pizza, pasta salad, veggie cups, and desserts was a good match for both the adults and the kiddos attending the party, and I think it's safe to say that Conley had a great day! With resources like Pear Tree and Pinterest, I'm already excited about planning our next party!
About our guest contributor:
Sarah lives with her husband, son and a giant dog in a small town in Wisconsin. She loves DIY projects, scrapbooking when she has time, and finding ideas for new things to create on Pinterest. She works for a company that provides residential support services for people with developmental or physical disabilities.