As the Director of Product Development for
Pear Tree
I work with designers to build the best products for our customers. When I'm working on a project for my own family I tackle it the same way. I start with the big picture then define the requirements and finally focus on the details.
Big Picture (theme): Washi tape.
Requirements —
1. My kids would be involved in assembly. (Needs to be easy to do.)
2. My oldest needs to write (in cursive) the names of his classmates. (Needs extra envelopes for potential mistakes.)
3. My daughter could not bring candy. (The "treat" needs to be flexible.)
These are the three Valentine's Day card ideas for kids that I came up with–easy, mistake proof and flexible!
Materials/Tools:
1. Washi tape
2. Pen
3. Small paper
4. Lollipop
5. Crayons
Variation #1: Lolipop treats
Use the washi tape to add a treat to the front of the envelope and on the back to secure it closed.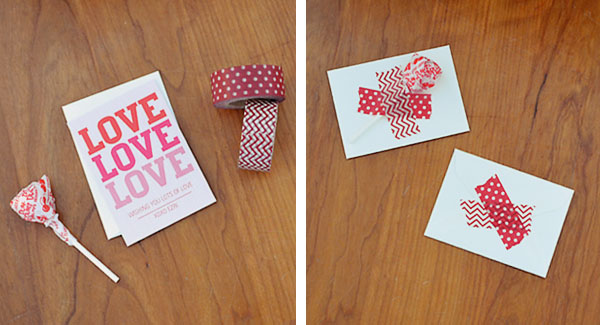 Variation #2: Personal touch
Use the washi tape to add a small piece of paper to the front of the envelope for your child to write their classmate's name on it. Then, on the back of the envelope, use another piece of washi tape to secure it closed. It's perfect for kids who want to write the names on the front, and it helps with mistakes.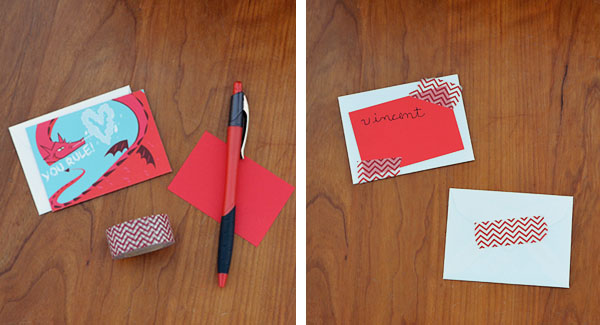 Variation #3: No candy
Use washi tape to add a crayon or a small box of crayons to the front of the envelope. It's a great non-candy treat and it's perfect for our coloring cards.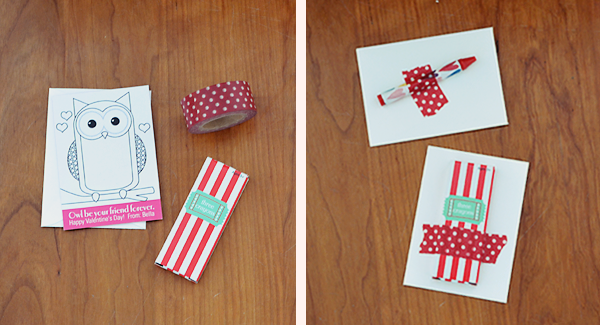 These were such fun Valentine's Day card ideas for kids. My children enjoyed creating their valentines for their friends.
Be sure to read our blog for more Valentine's Day ideas and don't forget to order you classroom valentines from Pear Tree Greetings!
Whose kids have the coolest Valentines, Halloween costumes and birthday parties on the planet? Angela's. She heads up the product design team at Pear Tree, so it's no contest, really. She lives with her husband and four kids in Tucson, Arizona. To Angela, a perfect design is timeless, and a perfect photo of her kids has them wearing matching (but not identical) clothes. She loves a well-set table, and her favorite holiday is Thanksgiving…no, Halloween…no, Thanksgiving. Does she have to pick?