{ENDED 1/25/13}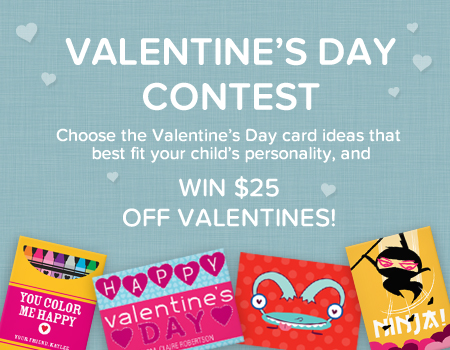 Finding Valentine's Day cards from the local store that fit your child's personality is tough to do. Not all girls like Hello Kitty and not all boys like Teenage Mutant Ninja Turtles, so why not create a
Valentine's Day card
that shows exactly who your child is?!
Well, you're in luck! We are having a contest to do just that. We are asking you to choose a Valentine's Day card that best fits your child's personality from our collection of Kids Valentine's Day Cards or our classroom valentines. Comment below with the name of the card and three people will be drawn at random to win $25 off any Valentine's Day Card order!
But hurry, our contest only lasts a few days! Comment below with your Valentine's Day card ideas for your child, and you'll have a chance to buy that card for him or her to make this Valentine's Day extra special!
Contest ends Friday, January 25th and winners will be announced by Monday, January 28th.