Not sure where to start with your graduation planning? Welcome to our graduation party checklist, a series of posts on what you can be doing right up until graduation day!
Sometimes graduation party planning starts with a theme, and sometimes the theme creates itself based on the party location, an unusual activity or food idea. We don't think it's essential to pick a theme for your grad party, but it definitely helps to have a way to tie everything together! Here are a few theme ideas that incorporate graduation party decorations, food ideas, activities and more.
School Colors
High school colors make a simple theme and one that's easy to carry off. Since they're usually easy to find, these basic colors can be incorporated into foods (like frosting) and graduation party decorations. See our Classic Graduation Party Pinterest board for ideas.
Sports or a Hobby
If your grad has an activity or hobby that has defined his or her high school years, it's natural to use that as your party theme. See our All Star Graduation Party for ways to bring a sports theme (or any other theme) to life!
Glam
Nothing like a little sparkle to make a teenage girl happy! Our Glam Graduation Party is full of glittery decorations and food ideas that may be just enough to carry the day.
Fun Activity
Sometimes a fun activity, such as having a DJ, playing games, or having the party at a pool or beach can become the theme for your party. Our Photo Booth Pinterest board is an example of how to create a theme out of an activity.
Food Theme
Does your son love chicken wings? Is your daughter a candy freak? There's your party theme! Check out our Bright Colors Party and BBQ Party Pinterest board for ideas.
Decorations
Once you have your theme, check out our custom graduation party decorations, table decor, yard signs and napkins! You should also start thinking about ways to tell your grad's story and honor his or her accomplishment at the party. Our blog post on graduation photo display ideas will help get you started. And if you haven't chosen your graduation invitations yet, it's pretty easy to find them to match any of these themes. At Pear Tree you can choose from over 70 colors to personalize your invites.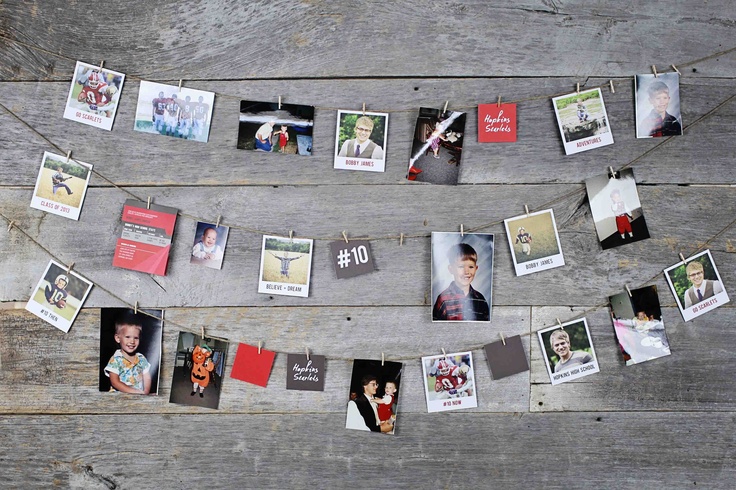 Watch for our next gradation party checklist post all about graduation food ideas! And be sure to check out these earlier posts in the series:
Graduation Party Checklist
Graduation Party Checklist: Make Guest List and Pick Location
Graduation Party Checklist: Set the Date
Graduation Party Checklist: Order Invitations